Biotech stocks have been surging over the past 2-3 weeks, as the high-flying tech stocks take a breather. The iShares Biotech Index Fund (IBB) has risen about 10% over the past month, while the S&P 500 ETF (SPY) is almost flat and the SPDR Technology ETF (XLK) is down about 3%.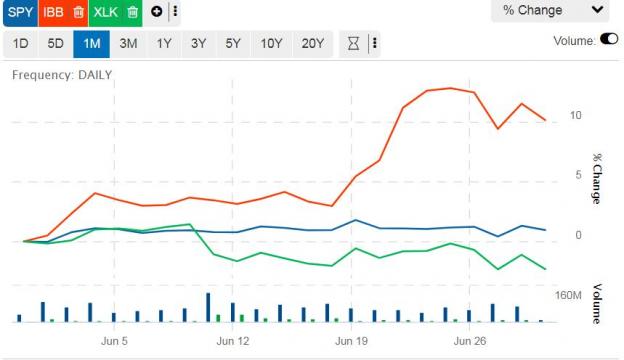 One of the main reasons behind this sudden optimism for the industry is the hope for easing of regulations. A draft executive order obtained by the New York Times suggests that the Trump administration plans to focus on easing regulatory hurdles rather than lowering drug prices.
According to the NYT report, most of the officials responsible for drug policy have strong ties to the industry and the proposals reflected industry influence. This is an excellent news for the industry which has been in the political crosshairs for quite some time. (Read: Trump Slump to Oil Slide—Top ETF Stories of First Half 2017)
Investors also expect a favorable environment for innovation and a streamlined drug approval process. The Food and Drug Administration has approved 21 novel drugs in 2017 compared with an average of 15 from 2011 to 2016 through June each year, per WSJ.
The recent rebound in biotech stocks is also a result of attractive valuations after almost two years of underperformance. Further, big pharma companies hold a lot of cash abroad and a repatriation tax holiday promised by Trump would help them bring that cash home to spend on acquisitions among others. Rising M&A activity could propel these stocks higher.
Before the election, investors saw Hillary as a bigger risk to the sector. Her tweet on price gouging in the specialty drug market had sent biotech stocks and ETFs tumbling. In fact, 2016 was the worst year for biotech stocks in more than a decade, with the broad index down more than 20%. (Read: How Tesla is Driving the Lithium ETF Higher)
The sector had a nice relief rally after the election as Trump's plans to reduce drug regulations and expedite drug approval process boosted the sentiment. However, the rally did not last long as he targeted the drug companies again, with comments like "they are getting away with murder" and promised a new bidding process that would save billions of dollars.
We have highlighted five best performing biotech ETFs of 2017 below:
Ark Genomic Revolution Multi-Sector ETF (ARKG)
ARKG focuses on companies involved mainly in molecular diagnostics, bioinformatics, beyond DNA, gene therapy, next generation oncology and targeted therapeutics. (Read: Top and Flop Zones of First Half and Their ETFs)
The product is actively managed and charges an annual fee of 75 basis points. It has just about $20 million in AUM.
ARKG is up more than 36% this year.
Bioshares Biotechnology Clinical Trials (BBC)

BBC invests in clinical trials stage biotechnology companies. These are typically younger, smaller companies, which do not have a drug approved, but instead focus on testing their experimental drugs in clinical trials, where chances of success are usually low.
The product has a high expense ratio of 85 basis points. It has managed to gather less than $25 million in assets so far.
BBC is up more than 34% year-to-date.
SPDR S&P Biotech ETF (XBI)
XBI, one of the most popular biotech ETFs, follows a modified equal weighted biotech index which provides broad exposure across large, mid and small cap stocks. It charges 35 basis points for expenses and has assets exceeding $3.8 billion.
This Zacks Rank #2 (Buy) rated ETF has 99 holdings as of now. It has risen more than 34% this year.
First Trust NYSE Arca Biotechnology Index Fund (FBT)
FBT also follows an equal-weighted methodology. It has a more concentrated exposure than other broader biotech ETFs with just 30 holdings focused primarily on recombinant DNA technology, molecular biology, genetic engineering, monoclonal antibody-based technology, lipid/liposome technology, and genomics.
The product has an expense ratio of 56 basis points. It is up more than 28% year-to-date.
BioShares Biotechnology Products ETF (BBP)
BBP invests in products stage biotechnology companies. These companies have already successfully completed clinical trials and have received FDA approval to sell and market a drug and are now focused on driving sales.
The fund is expensive, with an annual fee of 85 basis points. It has $40 million in AUM. BBP has risen about 23% in 2017.
The Bottom-Line
Investors should remember that biotech is a high-growth, high-risk sector and they should be prepared for higher volatility. Particularly the ETFs that invest in unique, specialized sub-segments of the biotech industry or have a lot of exposure to smaller companies, are more volatile than broader market-cap weighted biotech ETFs like IBB.
Ultra-cheap, broad healthcare ETFs like SPDR Healthcare ETF (XLV) are more suitable for investors with lower risk tolerance.
At the same time, with the aging global population in need for more advanced medicines and rapidly rising healthcare spending in emerging markets, the longer-term outlook for biotech companies remains positive.
Today's Stocks from Zacks' Hottest Strategies It's hard to believe, even for us at Zacks. But while the market gained +18.8% from 2016 - Q1 2017, our top stock-picking screens have returned +157.0%, +128.0%, +97.8%, +94.7%, and +90.2% respectively. And this outperformance has not just been a recent phenomenon. Over the years it has been remarkably consistent. From 2000 - Q1 2017, the composite yearly average gain for these strategies has beaten the market more than 11X over. Maybe even more remarkable is the fact that we're willing to share their latest stocks with you without cost or obligation. See Them Free>>
Want the latest recommendations from Zacks Investment Research? Today, you can download 7 Best Stocks for the Next 30 Days.
Click to get this free report
SPDR-TECH SELS (XLK): ETF Research Reports
SPDR-SP 500 TR (SPY): ETF Research Reports
ISHARES NDQ BIO (IBB): ETF Research Reports
FT-AMEX BIOTEC (FBT): ETF Research Reports
BIOSH-BIO CLNCL (BBC): ETF Research Reports
BIOSH-BIO PRD (BBP): ETF Research Reports
SPDR-SP BIOTECH (XBI): ETF Research Reports
ARK-GENOMIC RVL (ARKG): ETF Research Reports
To read this article on Zacks.com click here.
Zacks Investment Research
Want the latest recommendations from Zacks Investment Research? Today, you can download 7 Best Stocks for the Next 30 Days. Click to get this free report