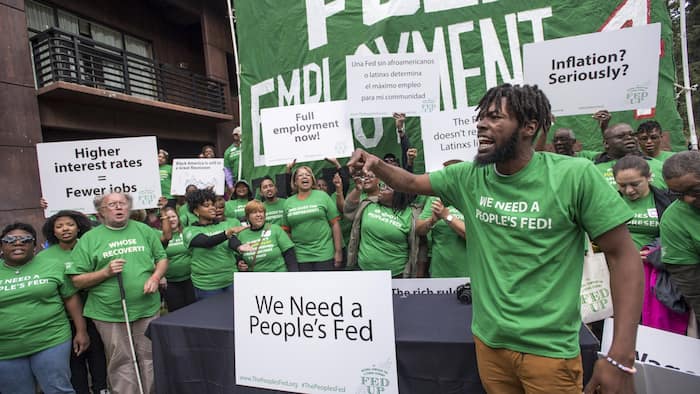 "I don't want to be sacrificed in your war against an inflation enemy that isn't here."
11 Fed officials met with "Fed Up" protesters yesterday who told them: "You will be leaving us behind," if the Fed rushes to raise rates, accusing the Fed of "pulling the ladder right up after you have climbed it.  Our communities are still in a great recession" and "Let our wages grow".  
The protest, misguided though it is, exemplifies how uneven the US economy has become as 8 years of easy Fed policies have done nothing for the Bottom 80% – things have actually gotten worse just below the top of the economic ladder.  Sadly, the Fed doesn't work for the Bottom 80% and the Fed is not the Government,  and the kind of inflation they seek to contain is WAGE inflation – exactly what the Fed Up crowd wants them to "fix".  
Things are very fixed, as far as the Fed is concerned.  In fact, in the past 3 months, US banks made $43.6 BILLION in profits, beating the previous record of $43.01Bn in Q2 of 2015.  So the Fed is doing exactly the job they are supposed to be doing.  They don't want higher wages – they want "full employment" – in other words, they want a high supply of labor but that doesn't mean they have any interest in those employees making a living wage – that would be inflationary!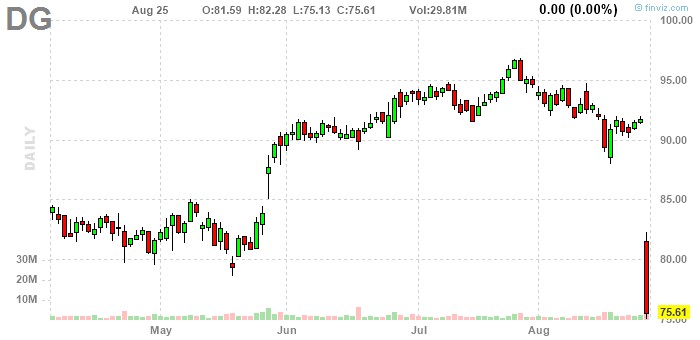 As noted by discount store, Dollar General's (DG) CEO last night after announcing weak sales and earnings:
I know that when we look at globally the overall U.S. population, it seems like things are getting better. But when you really start breaking it down and you look at that core consumer that we serve on the lower economic scale that's out there, that demographic, things have not gotten any better for her, and arguably, they're worse. And they're worse, because rents are accelerating, healthcare is accelerating on her at a very, very rapid clip.

Making matters worse, he added that the company's core consumers
Provided courtesy of Phil's Stock World.