We expect GrubHub Inc. GRUB to beat expectations when it reports second-quarter 2017 results on Aug 3.
Last quarter, the company posted a positive earnings surprise of 26.3%. Notably, the stock outperformed the Zacks Consensus Estimate thrice and missed in one occasion, over the trailing four quarters. It has an average positive earnings surprise of 20.9%. Let's see how things are shaping up for this announcement.
Why a Likely Positive Surprise?
Our proven model shows that GrubHub is likely to beat on earnings because it has the right combination of the two key components.
Zacks ESP: GrubHub currently has an Earnings ESP of +23.8%. This is because the Most Accurate estimate is pegged at 26 cents, while the Zacks Consensus Estimate comes lower at 21 cents. A favorable Earnings ESP serves as a meaningful and leading indicator of a likely positive earnings surprise. You can uncover the best stocks to buy or sell before they're reported with our Earnings ESP Filter.
Zacks Rank: GrubHub currently carries a Zacks Rank #3 (Hold). It should be noted that stocks with a Zacks Rank #1 (Strong Buy), 2 (Buy) or 3 have a significantly higher chance of beating earnings. Conversely, stocks with a Zacks Rank #4 or 5 (Sell rated) should never be considered going into an earnings announcement.
The combination of GrubHub's Zacks Rank #3 and a positive ESP make us reasonably confident of a positive earnings beat.
GrubHub Inc. Price and EPS Surprise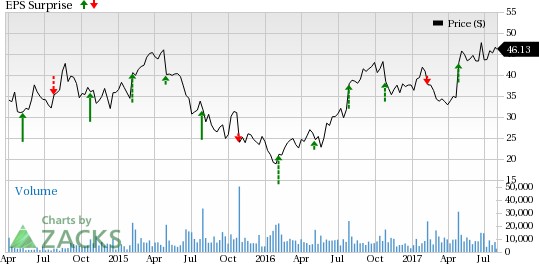 What's Driving the Better-than-Expected Earnings?
GrubHub provides an online and mobile platform for restaurant pick-up and delivery orders in the U.S. through its strategic partnership with restaurants. Its strong presence offers a competitive advantage.
Of late, the company has been gaining a lot of traction in the business, driven by its branding efforts, and ongoing improvements in products and delivery network.
During its first-quarter earnings conference call, the company had revealed that its diverse restaurant base, along with broader marketing reach and continuous improvement in products, are helping it gain more new customers. In the first quarter, active diners were 8.75 million, increasing 26% year-over-year from 6.97 million active diners in first-quarter 2016.
We anticipate the aforementioned factors to continue helping the company in attracting more new dinners to try GrubHub services, thereby bringing in more incremental revenues in the second quarter.
Furthermore, early this year, GrubHub introduced 'Delivery X: Delivery Without Limits' to enable quick and timely delivery of food to dense urban metro areas.
Also, GrubHub integrated its ordering system with Amazon's Alexa, enabling users of Amazon Echo, Echo Dot and Amazon Tap to order their food through voice command.
Other Stocks that Warrant a Look
Here are some other companies you may want to consider as our model shows that these also have the right combination of elements to post an earnings beat:
Salesforce.com Inc. CRM, expected to release earnings on Aug 30, currently has an Earnings ESP of +11.11% and a Zacks Rank #3.You can see the complete list of today's Zacks #1 Rank stocks here.
CA Inc. CA, scheduled to release earnings on Aug 2, currently has an Earnings ESP of +4.00% and a Zacks Rank #3.
Citrix Systems, Inc. CTXS, slated to release earnings on Aug 2, currently has an Earnings ESP of +1.18% and a Zacks Rank #3.
Will You Make a Fortune on the Shift to Electric Cars?
Here's another stock idea to consider. Much like petroleum 150 years ago, lithium power may soon shake the world, creating millionaires and reshaping geo-politics. Soon electric vehicles (EVs) may be cheaper than gas guzzlers. Some are already reaching 265 miles on a single charge.
With battery prices plummeting and charging stations set to multiply, one company stands out as the #1 stock to buy according to Zacks research.
It's not the one you think.
Want the latest recommendations from Zacks Investment Research? Today, you can download 7 Best Stocks for the Next 30 Days.
Click to get this free report
GrubHub Inc. (GRUB): Free Stock Analysis Report
Salesforce.com Inc (CRM): Free Stock Analysis Report
CA Inc. (CA): Get Free Report
Citrix Systems, Inc. (CTXS): Free Stock Analysis Report
To read this article on Zacks.com click here.
Zacks Investment Research