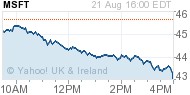 The launch of Windows 95 redefined home computing and began a golden age for Bill Gates' company
Twenty years ago, Microsoft (NasdaqGS: MSFT - news) changed the world. On August 24, 1995, Windows 95 was released to the public, beginning a revolution that has helped shaped the technology world for the next two decades.
It (Other OTC: ITGL - news) was by no means the first version of Windows. Home computing had been around for more than a decade, but nothing before, had had the same impact. As well as being a technological breakthrough, introducing features that still define Microsoft's operating system today, Windows 95 was an unprecedented cultural phenomenon.
Matthew Perry and Jennifer Aniston, better known as Chandler and Rachel from Friends , starred in an hour-long instructional video ; the Empire State Building and Toronto's CN Tower were lit up in Microsoft's colours; and the Rolling Stones were paid a rumoured $8m for allowing "Start Me Up" to provide the soundtrack to its television adverts.
For possibly the first time, a software launch became a massive global event. Enthusiasts queued around the block on Windows 95's release day to pick up a copy, a sight now more commonly associated with the release of a new iPhone .
If Windows 95 was just about glitz, though, we wouldn't be remembering it today. It was also a pivotal moment, not only in the history of Microsoft, but in personal computing itself.
Introducing features such as the Start Menu which became so popular that Microsoft was forced to reinstate it in the latest version of Windows after removing it in 2012 and the taskbar set the tone for how a computer in the internet age should work.
The software was a leap forward in graphic...
More