According to the Canada Mortgage and Housing Corporation (CMHC), the annualized reading of housing starts improved in May.  
May: 198K
Forecast: 185K
Previous: 197K (revised up from 195K)
The 6-month moving average came in at 184,438 in May, after trending at 183,872 in April. This trend has virtually been flat the last 3 months.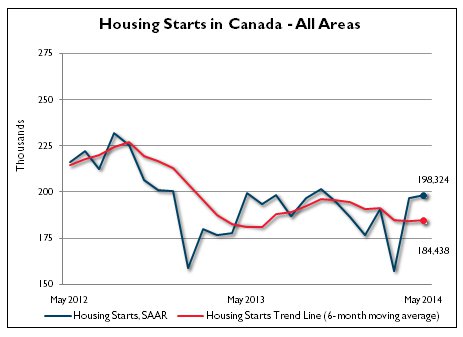 (source: CMHC)
From the report:
"...This is in line with CMHC's analysis indicating that the new home construction market in Canada is headed for a soft landing in 2014," said Bruno Duhamel, Manager, Housing and Economic Analysis. "Builders are expected to continue to manage their starts activity in order to ensure that demand from buyers seeking new units is first channeled toward unsold completed units or unsold units that are currently under construction, including condominium units."
The USD/CAD slid overnight. The 1.09 level will be key support in the short-term. A hold above 1.09 keeps pressure on the 1.0960 high from last week. Above that, 1.10 is key resistance.

A break below 1.09 however puts the pressure back on the 1.0815-1.0825 support area.