U.S. telecom major AT&T Inc.'s T cloud networking product, AT&T NetBond, announced the incorporation of Oracle Network Cloud Service's FastConnect for an improved and innovative cloud ecosystem.
AT&T's customers will be able to manage and access its Oracle Cloud services using NetBond, which is highly secure, has dedicated connectivity, high reliability and offers an enhanced end-user experience.
The partnership not only provides a secure connection for Oracle's business customers but also enables AT&T's customers to access the services of a major cloud provider. Together, these companies can help global enterprise consumers avail another cloud service migration option. Users can benefit from the enhanced performance, favorable cost, reliable security and innovation offered by the partnership.
With AT&T NetBond for Cloud and AT&T's global multiple protocol label switching (MPLS) virtual private network (VPN) solution, customers can better execute their business strategies for high-bandwidth connectivity needs.
The AT&T NetBond for Cloud ecosystem includes more than 20 members delivering highly-secure access to above 25 leading cloud services. Oracle is part of the growing base of cloud partners made by AT&T for NetBond. The other cloud platform partners include Amazon.com Inc.'s AMZN Amazon Web Services (AWS), International Business Machines Corporation (IBM), Equinix, Inc. EQIX and Microsoft Corporation's MSFT Microsoft Azure.
Last month, AT&T's NetBond provided support to more than 100 additional cloud software and service providers, hosted on Amazon Web Services' (AWS) platform. The offer is part of the new AWS Direct Connect (DX) Bundle. This move reflects AT&T's shift toward cloud-based Software as a Service (SaaS) applications.
Price Performance and Zacks Rank
Over the past three months, share price of AT&T declined 9.14% compared with the Zacks categorized Wireless National industry's fall of 8.57%.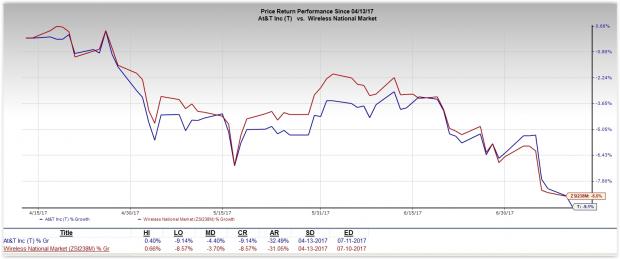 Notably, AT&T operates in a highly competitive and saturated wireless market in the U.S. In such market conditions, spectrum crunch has become a major issue in the domestic telecom industry. The company's wireline division has been struggling with persistent losses in access lines due to competitive pressure from voice-over-Internet protocol (VoIP) service providers and aggressive triple-play (voice, data, video) offerings by cable companies. Moreover, operating expenses, marketing costs associated with attractive discounts, regulatory norms and union issues act as major headwinds. We believe that such negative aspects have led to the company's current Zacks Rank #4 (Sell).
You can see the complete list of today's Zacks #1 Rank (Strong Buy) stocks here.
More Stock News: 8 Companies Verge on Apple-Like Run
Did you miss Apple's 9X stock explosion after they launched their iPhone in 2007? Now 2017 looks to be a pivotal year to get in on another emerging technology expected to rock the market. Demand could soar from almost nothing to $42 billion by 2025. Reports suggest it could save 10 million lives per decade which could in turn save $200 billion in U.S. healthcare costs.

A bonus Zacks Special Report names this breakthrough and the 8 best stocks to exploit it. Like Apple in 2007, these companies are already strong and coiling for potential mega-gains. Click to see them right now >>
Want the latest recommendations from Zacks Investment Research? Today, you can download 7 Best Stocks for the Next 30 Days.
Click to get this free report
Amazon.com, Inc. (AMZN): Free Stock Analysis Report
Equinix, Inc. (EQIX): Free Stock Analysis Report
AT&T Inc. (T): Free Stock Analysis Report
Microsoft Corporation (MSFT): Free Stock Analysis Report
To read this article on Zacks.com click here.
Zacks Investment Research