Those betting against Goldman Sach's retail investment advice have generally been on the right side of things.
The same thing is about to happen again.
"Short gold! Sell gold!" said Goldman's head commodity trader, Jeff Currie, during a CNBC "Power Lunch" interview.
Currie's advice was in response to the question "Is there any commodity you are recommending that can help our viewers make some money?"
Currie's provided several reasons for shorting gold, blatantly wrong.
MarketWatch explains, and I will rebut, Why Goldman's Commodity Chief Wants Investors to Bet Against Gold.
"Short gold! Sell gold!" That was Currie's unabashed advice during a CNBC interview Tuesday after discussing the outlook for crude-oil futures.

Currie's rationale is fairly straightforward: The closely followed Goldman strategist sees the Federal Reserve raising benchmark interest rates at some point in 2016 and believes the result of higher rates will be a drag on the dollar-denominated precious metal.

"The Fed has signaled two [rate hikes]. Data is signaling three and what do higher interest rates do to gold? Send it down," said Currie.
Exploring Currie's Claim "Higher Interest Rates Send Gold Down"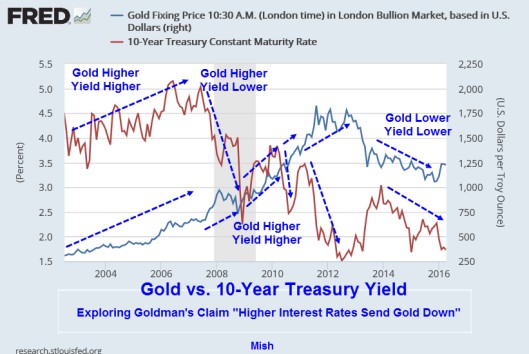 In more recent history (shown above), gold sometimes rises with rising yields and sometimes with falling yields.
In short, Currie's statement is easily disproved nonsense.
With that out of the way, let's turn our spotlight on his idea that data signals three hikes.
"Fed Signaling Two Hikes, Data Signaling Three"
What data is that?
On April 5, I noted GDPNow Forecast Sinks to 0.4% Following More Weak Economic Report.
GDPNow History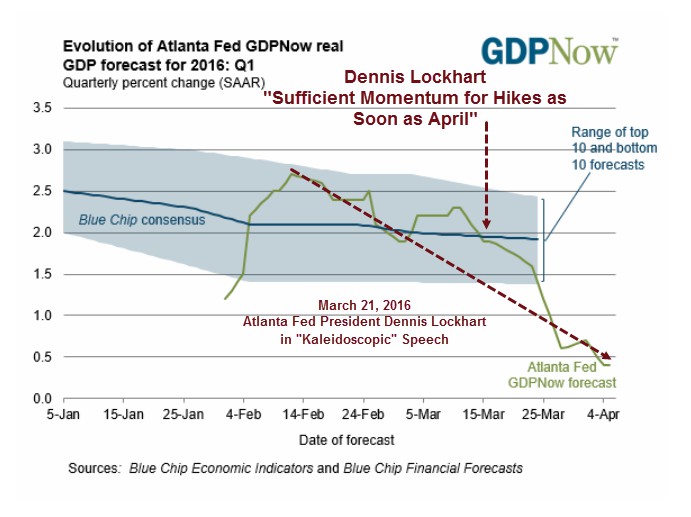 Disclaimer: The content on Mish's Global Economic Trend Analysis site is provided as general information only and should not be taken as investment advice. All site content, including advertisements, shall not be construed as a recommendation to buy or sell any security or financial instrument, or to participate in any particular trading or investment strategy. The ideas expressed on this site are solely the...
More