Stock markets in Europe and United States dropped on Thursday, set off by concerns about the soundness of Portugal's largest publicly traded bank and data suggesting continued weakness in other European economies.
European stocks were off by more than 2 percent and a sell-off was underway in the United States, with the Standard & Poor's 500-stock index down 0.59 percent and the Dow Jones industrial average dropping 0.7 percent at 10:55 a.m.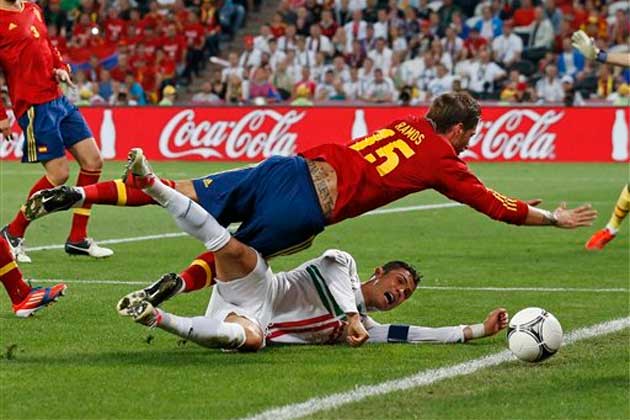 The banking worries center on Espírito Santo International, which Tuesday said that it had missed payments on some of its debt. Espírito Santo International is the parent of the bank, Banco Espírito Santo, Portugal's second-largest lender, which on Thursday suspended its shares. The market plummeted in Lisbon, with the PSI Index dropping almost 4 percent.
The tumult is a stark reminder that investors — despite recent optimism about Europe — are still worried about the overall health of the region's financial system.

In recent months, investors have shown renewed interest in European stocks and debt. They have devoured the sovereign debt of troubled economies like Spain and Greece.
While Europe is on the mend, it is far from a full recovery. Ultralow inflation and weak growth continued to plague the economy. And the plight of a Portuguese lender only plays into the broader concerns that Europe's financial system is still in a precarious place.
Espírito Santo International said in its statement that it had missed payments on its commercial paper to only "a few clients," and while government officials said that liquidity pressures should not affect the soundness of Banco Espírito Santo itself, the developments were enough to help start a sell-off in other European bank shares, particularly in Spain and in Italy, where trading in some bank shares was halted.
Analyzing the risks to the Portuguese bank, Ciaran Callaghan of Merrion Stockbrokers said in a letter to clients that Banco Espírito Santo was "exposed to future claims if the parent company defaults" on its future debt payments.
The Merrion report raised concern about transparency issues involving the parent company. "The entity appears to be highly leveraged, relying on other group companies to roll its debt," it said.
Adding to the jitters in European markets was a fresh batch of disappointing economic data from Italy. Italian industrial output experienced its biggest drop since November 2012, which, along with concerns about its banking sector, caused the FTSE MIB index in Italy to drop nearly 2 percent.
Amid the adverse market conditions, Greece said on Thursday that it raised 1.5 billion euros in a sale of three-year bonds. That was less than had been expected.
It was Greece's second debt issue in three months after a four-year exile for the debt-racked country, which was frozen out of bond markets in 2010 after being rescued from bankruptcy by international creditors.
The Finance Ministry said it accepted 1.5 billion euros of the 3 billion euros in offers made by investors in a bond sale with a 3.5 percent yield. Although Greece raised less than the €2.5 billion to €3.5 billion that had been widely anticipated, the ministry expressed satisfaction that international investors put their trust in the Greek economy "despite the extremely adverse climate in international and regional markets yesterday and today." Greece would continue its efforts, it said, "to create a full yield curve."
Source: http://www.nytimes.com/