Comcast Corp.'s CMCSA Telemundo is set to create history by taking the number one position in the Spanish-language television network, edging out Univision and Unimas for the first time. Reportedly, Telemundo became the most-watched Spanish-language network in prime time the first time for a full TV season.
Telemundo is an American Spanish-language terrestrial television network owned by Comcast through NBC Universal's division, NBC Universal Telemundo Enterprises. Notably, Mexican pay-TV and broadcasting behemoth, Grupo Televisa S.A. TV owns upto 49% of U.S. Spanish-language TV network Univision Inc.'s voting stock.
Both Comcast and Grupo Televisa currently carry a Zacks Rank #3 (Hold). You can see the complete list of today's Zacks #1 Rank (Strong Buy) stocks here.
Per data from Nielsen Holdings, a global information, data, and measurement company, Telemundo will have the biggest share of the two demographics, 18-49 years and 18-34years, from Monday to Friday in the 8pm-11pm primetime viewing. The network registered its highest share ever in Spanish-language television, surpassing Univision and Unimas among 18-49 years (43%) and 18-34 years (45%). Telemundo also ranked among the top 5 broadcast networks with NBC, ABC, CBS Corporation CBS and Twenty-First Century Fox Inc. FOXA, during the season and outperformed all cable networks, except ESPN, in the key demos.
In 2017, Telemundo added a few distribution agreements with online video services including Hulu and FuboTV. Earlier this year, Telemundo signed a content-production deal with Vice Media to start original documentary segments for Telemundo News and a one-hour hosted weekly show for Universo. Both programs are expected to debut in the fall.
In the last few years, Telemundo's programming has evolved with its audience, considering the way they consume media and the type of content they prefer. The network's business model was designed to produce original content, positioning Telemundo as the only network that offers high-quality content across all platforms. The programs specifically targeted Hispanics living in the United States. Telemundo has been part of this rapidly evolving market and has demonstrated a better understanding of what resonates and is relevant to this new audience, across all platforms.
For the sixth consecutive year, Telemundo is the top Hispanic network. In August, Telemundo secured the top spot among broadcast network in Total Engagement according to Shareablee, the social media metrics company. The shows El Señor de los Cielos and Sin Senos Sí Hay Paraíso, ranked No.1 and 2, respectively, among all broadcast drama series in Facebook.The achievement came on the back of the network's commitment to redefining Hispanic media and providing action-packed, contemporary stories that connect well with their audiences.
In fact, Telemundo claimed the top three highest-rated series in all Spanish-language television in weekday prime time from 8pm to 11pm among adults 18-49 and adults 18-34.
Price Performance
Over the past three months, shares of Comcast declined 6.2% as against the 0.7% gain of the industry it belongs to.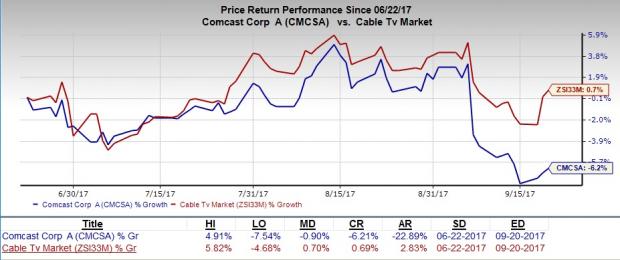 Will You Make a Fortune on the Shift to Electric Cars?
Here's another stock idea to consider. Much like petroleum 150 years ago, lithium power may soon shake the world, creating millionaires and reshaping geo-politics. Soon electric vehicles (EVs) may be cheaper than gas guzzlers. Some are already reaching 265 miles on a single charge.

With battery prices plummeting and charging stations set to multiply, one company stands out as the #1 stock to buy according to Zacks research.
It's not the one you think.
Want the latest recommendations from Zacks Investment Research? Today, you can download 7 Best Stocks for the Next 30 Days.
Click to get this free report
CBS Corporation (CBS): Free Stock Analysis Report
Grupo Televisa S.A. (TV): Free Stock Analysis Report
Comcast Corporation (CMCSA): Free Stock Analysis Report
Twenty-First Century Fox, Inc. (FOXA): Free Stock Analysis Report
To read this article on Zacks.com click here.
Zacks Investment Research