In January of this year, the Pew Research Center found that for the first time in over 20 years of asking people about where they stand on gun control, "a higher percentage (52%) said it was more important to protect the right of Americans to own guns than to control gun ownership (46%)."

It's a polarizing topic that Countable user, Brave New Films, is gearing up to tackle in their latest planned feature length documentary, The Real NRA: Making a Killing.
"We will be telling the stories of how guns — and the billions made off of them — affect the lives of everyday Americans and what we can do to put an end to this profit-driven crisis." - Brave New Films
And yet for many people in the U.S., (52% of participants in that Pew Research study), danger does not lie with the National Rifle Association's profits — but the threat to vulnerable populations that don't have access to guns. Take for instance, this bill that has been proposed in Congress that aims to bring firearms back onto school campuses: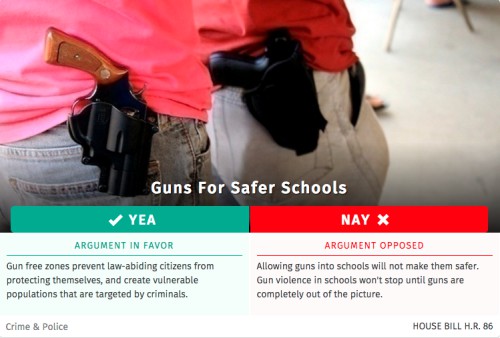 Where do you stand on gun control? Check out Brave New Film's other videos, NRA campaign, and where they stand on this, and other legislation on their Countable profile.