China's stocks rose, sending the benchmark index toward its biggest weekly gain in a year, amid speculation the government is accelerating measures to support the economy and reverse a four-year slump in equities.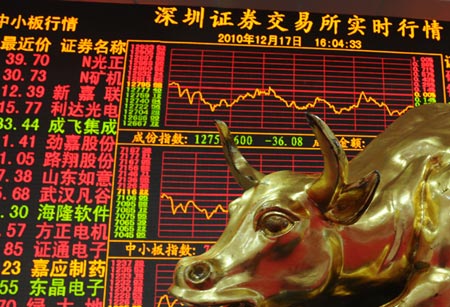 Haitong Securities Co. advanced 1.8 percent for a sixth day of gains on the prospect a recent jump in share trading will boost earnings. CSR Corp. and China CNR Corp., the nation's two biggest train makers, jumped at least 1.7 percent after a Caixin report the government wants them to merge. The two companies said no plans had been submitted. Anhui Xinhua Media Co. slid 1.5 percent, paring this week's rally to 11 percent.
The Shanghai Composite Index rose for a sixth day, adding 0.3 percent to 2,313.92 at 1:10 p.m., with trading volumes 33 percent above the 30-day average. Bocom International Holdings strategist Hao Hong has turned positive on Chinese stocks, saying measures including cutting margin requirements on index-futures contracts and providing financing support to developers led him to change his cautious view.
"From a trading perspective, these are positive developments that are difficult to ignore," Hong said in a report today. "So is the government's intent to revive the market. Even though economic fundamentals will continue to look weak, it is time to throw our senses out of the window, and buy the dips that will likely push new highs in the coming weeks."
The Hang Seng China Enterprises Index (HSCEI) dropped 0.5 percent, dragged down by losses of at least 1.6 percent for PetroChina Co. and Anhui Conch Cement Co. The CSI 300 Index gained 0.3 percent. The Bloomberg China-US Equity Index rose 0.1 percent. China's financial markets will be closed Sept. 8 for a national holiday.
Turning Positive
The Shanghai index has surged 4.4 percent this week after gauges of services industries jumped and the Xinhua News Agency published at least eight articles advocating equity investing, part of what Everbright Securities Co. says is an increased government push to bolster the market.
"There are increased expectations for reforms," said Zhou Lin, an analyst at Huatai Securities. "Plus, we keep seeing all the positive news on Xinhua. It's boosting confidence. You can see volume has increased and sentiment has improved. After such a long rally, we may see some correction but the upward trend is here to stay."
Bocom'sHong said a "slew of supporting" policies and state media editorials advocating equities have led him to recommend buying on dips. These policies include developers allowed to issue debt in theinterbank market, the central bank using targeted monetary policy to cut interest rates for agricultural lending and property curbs being eased in many cities, he said.
Trainmakers Gain
China said this month it will reduce fees by more than half for individuals and institutions opening share accounts, while the futures exchange cut margin requirements for equity-index contracts on Sept. 1.
The Shanghai index has rebounded 16 percent since mid-March on speculation China will add to stimulus to reach its economic growth targets for this year and the link between exchanges in Hong Kong and Shanghai will fuel inflows. Still, the measure has fallen 29 percent since the start of 2010.
A gauge of industrial stocks in the CSI 300 rose 1 percent, the biggest gain among 10 industry groups. China CNR added 2.2 percent, while CSR advanced 1.7 percent. Ningbo Port Co. led a rally for port operators, surging 10 percent.
China's State-Owned Assets Supervision and Administration Commission, or SASAC, is seeking the merger of CSR and China CNR to help the export of China's high-speed railway technologies, Caixin reported on its website Sept. 3, citing people it didn't identify. The proposal was still at an early stage because China Railway Corp., the state monopoly that owns the rail network, opposes the move, the report said. The two companies said no plans had been submitted.
Media Companies
"We think their announcements actually did not deny that SASAC is pushing the merger and it will be in the charge of the State Council," Phyllis Wang, an analyst at Deutsche Bank AG, said in a note dated today. "In our view, the merger possibility still exists."
Anhui Xinhua Media fell the most in a week. People.cn Co., the online unit of the Communist Party's newspaper, lost 2 percent, paring gains to 43 percent over the past month.
China will create several media groups that are strong, influential and credible while promoting the integration of new and traditional media, the official Xinhua News Agency cited President Xi Jinpingas saying last month. The government is revamping state-controlled media firms as part of a broader campaign to reform government companies and reduce corruption, according to Tebon Securities Co.