The AUD/NZD has been in consolidation structure since making a high on the year at 1.1429.

AUD/NZD Daily Chart 9/4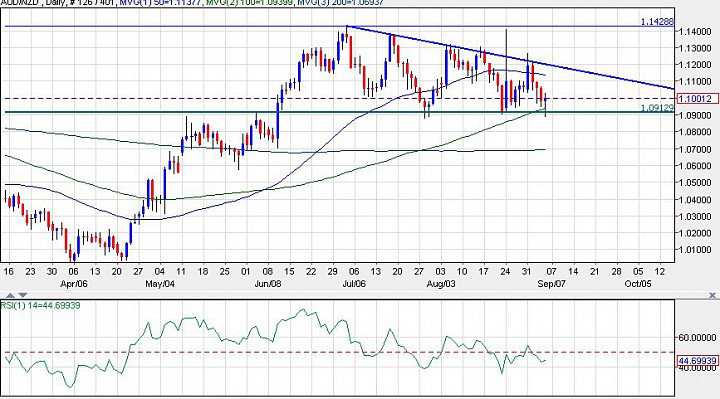 (Click to enlarge)

1) Structure: the consolidation structure seen in the daily chart is that of a descending triangle with lower highs (except for a spike last week), and essentially the same low around 1.09. 
2) Momentum and Bias: The bullish momentum since April is being tested as the daily RSI tags 40. With price still trading above the 200-, and 100-day SMAs, I can can only say that the bias is neutral-bullish. 

Now, price is once again pitted against the 1.09 support, which held again today as evidenced by the tail of today's candle. The thing is, this is a descending triangle, and the pressure is still on the 1.09 support. I say we start monitor this area going into next week.
I think it is okay to try a small long position around 1.09, but don't get married to the bullish outlook. I would limit it to 1.11-1.1150, where price will against be tested by the triangle resistance. Now, if price busts down 1.09, be ready to switch outlook to bearish, and get ready to sell on a pullback (if there is one). There might not be a significant pullback because as 1.09 provides support over and over, there will be stops below it, which when triggered, can cause a sharp bearish run towards the next key level around 1.07.