Alphabet Inc. (GOOGL) just released its second-quarter 2017 financial results, posting earnings of $5.01 per share and total revenues of $26.01 billion. Currently, GOOGL is a Zacks Rank #3 (Hold) and is down 2.84% to $970.00 per share in trading shortly after its earnings report was released.
Alphabet:
Beat earnings estimates. The company posted earnings of $5.01 per share, beating Street estimates of $4.39. The company reported diluted, non-GAAP earnings of $8.90 per share, beating the Zacks Consensus Estimate of $8.17.
Beat revenue estimates. Alphabet reported total revenues of $26.01 billion. Taking out revenues of Google Network Members, the company saw revenue figures of $21.76 billion, beating our consensus estimate of $20.83 billion.
Google advertising revenue for the quarter came in at $22.67 billion, up about 18.5% from the prior-year quarter. Aggregate paid clicks were up 52% year-over-year and 12% quarter-over-quarter, while cost-per-click was down 23% year-over-year and 6% quarter-over-quarter.
Alphabet also noted the results of a recent EU regulatory ruling, which decided that certain actions taken by Google regarding its display and ranking of shopping search results and ads infringed European competition law. The company was slapped with a $2.74 billion fine for the infringement.
GAAP profits, which were affected by the fine, slumped nearly 28% to $3.52 billion. Operating income slumped to $4.13 billion, while operating margin fell to 16%.
"With revenues of $26 billion, up 21% versus the second quarter of 2016 and 23% on a constant currency basis, we're delivering strong growth with great underlying momentum, while continuing to make focused investments in new revenue streams," said Google CFO Ruth Porat.
Here's a graph that looks at Alphabet's recent earnings history:
Alphabet Inc. Price, Consensus and EPS Surprise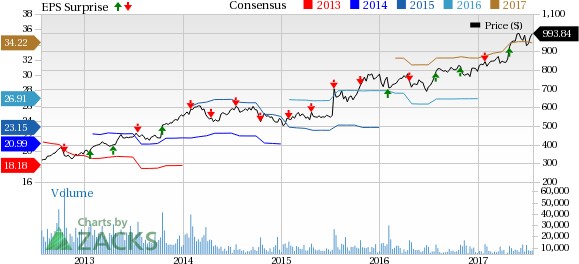 Alphabet Inc. Price, Consensus and EPS Surprise | Alphabet Inc. Quote
Alphabet Inc. is engaged in technology business. The company provides web-based search, advertisements, maps, software applications, mobile operating systems, consumer content, enterprise solutions, commerce, and hardware products through its subsidiaries. Alphabet Inc., formerly known as Google Inc., is headquartered in Mountain View, California.
Check back later for our full analysis on GOOGL's earnings report!
Want more stock market analysis from this author? Make sure to follow @
https://twitter.com/Ryan_McQueeney
on Twitter!
More Stock News: This Is Bigger than the iPhone!
It could become the mother of all technological revolutions. Apple sold a mere 1 billion iPhones in 10 years but a new breakthrough is expected to generate more than 27 billion devices in just 3 years, creating a $1.7 trillion market.
Zacks has just released a Special Report that spotlights this fast-emerging phenomenon and 6 tickers for taking advantage of it. If you don't buy now, you may kick yourself in 2020. Click here for the 6 trades >>
Want the latest recommendations from Zacks Investment Research? Today, you can download 7 Best Stocks for the Next 30 Days.
Click to get this free report
Alphabet Inc. (GOOGL): Free Stock Analysis Report
To read this article on Zacks.com click here.
Zacks Investment Research