After a tweet from the President-elect this morning promising that "The "Unaffordable" Care Act will soon be history!", the House of Representatives has just approved a budget resolution that brings that promise one step closer to its fruition.  Although many speculated that House Republicans would splinter after weeks of bickering on the merits of a simultaneous repeal and replace versus repeal now and replace later strategy, the final vote came in at 227-198 with only 9 Republicans dissenting.
Congrats to the Senate for taking the first step to

https://twitter.com/hashtag/RepealObamacare?src=hash

- now it's onto the House!

— Donald J. Trump (@realDonaldTrump)

https://twitter.com/realDonaldTrump/status/819600124133474307
The "Unaffordable" Care Act will soon be history!

— Donald J. Trump (@realDonaldTrump)

https://twitter.com/realDonaldTrump/status/819869953692155904
And here is the full official vote tally courtesy of CSPAN: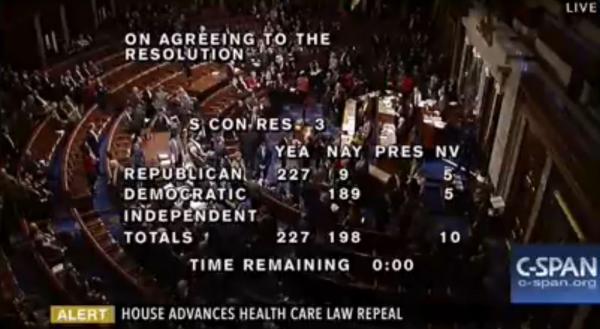 Of course, the House vote comes just one day after the Senate voted 51-48 to approve the budget resolution with Rand Paul being the only dissenting Republican vote.  Here's our summary from yesterday:
Early on Thursday morning, in a 51-48 vote, the Senate took the first concrete step toward dismantling Obamacare, when it voted to instruct key committees to draft legislation repealing Barack Obama's signature health insurance program. Republicans needed a simple majority to clear the repeal rules, instructing committees to begin drafting repeal legislation, through the upper chamber, with the vote falling largely along party lines.

 

Rand Paul was the lone Republican to vote against the budget resolution because it didn't balance. Paul said in a statement after the vote that while he supports nixing ObamaCare "putting nearly $10 trillion more in debt on the American people's backs through a budget that never balances is not the way to get there."
The resolution passed by the Senate on Thursday instructs committees of the House and Senate to draft repeal legislation by Jan. 27. Both chambers will then need to approve the resulting legislation before any repeal goes into effect.
With conflicting messages flooding the mainstream media about the timing of the Obamacare repeal versus the introduction of a plan for its replacement, House Speaker Paul Ryan again noted that Congress is "in complete sync" with the Trump administration that the failed law should be repealed and replaced "concurrently."  Per The Hill:
Speaker Paul Ryan (R-Wis.) insisted on Thursday that the House GOP and Trump are on the same page. The president-elect this week urged Congress to follow a repeal vote with a replacement as soon as possible.

 

"We are in complete sync. We agree we want to make sure we move these things concurrently, at the same time repeal and replace," Ryan said at a Capitol news conference.

 

Ryan said that Republicans will outline their strategy for replacing the law at the joint House-Senate GOP retreat in Philadelphia a week after the inauguration.

 

"Some of these steps will be taken by Congress; some of these steps will be taken by the incoming Trump administration" after Rep. Tom Price (R-Ga.) is confirmed as Health and Human Services secretary, Ryan said. "So this will be a thoughtful, step-by-step process. We're not going to swap one 2,700-page monstrosity for another."
Of course not all Republicans were supportive of the budget resolution with a handful vowing to oppose the Obamacare repeal effort without first crafting a clear vision of a replacement plan. 
A handful of conservative lawmakers are already on record saying they will vote no on the GOP budget, griping that it doesn't do enough to tackle federal spending and debt or that leadership has not laid out enough details of how it will go about replacing ObamaCare. They include Freedom Caucus members like Rep. Raul Labrador (R-Idaho) and Ken Buck (R-Colo.), as well as another conservative, Rep. Thomas Massie (R-Ky.).

 

"More people are reluctant to support it because they're taking the first step on a journey and leadership won't tell them where it's going to end," Massie told The Hill on Thursday. "But for me, it's the numbers."

 

"The numbers are too high," added Buck. "They say to me, 'The number's not the important part; it's the repeal, the reconciliation.' But if the number's not the important part, then make it lower."

 

Centrist Rep. Charlie Dent (R-Pa.) said Thursday that he still had "serious reservations" about voting for the budget resolution without any concrete plans of how to replace ObamaCare.

 

"Before we take this plane in the air, we better have a damn good idea where we're gonna land it. Because right now, we're not sure how we're gonna land," Dent told reporters in the Capitol.
And while we're a big fan of metaphors, we would suggest to Mr. Dent that his particular example ignores the point that the Obamacare plane is already in-flight, both engines have failed and the plane is spiraling toward the ground.  So while we understand the desire to move forward thoughtfully, we would also suggest that almost anything would be better than the current healthcare calamity that is Obamacare.