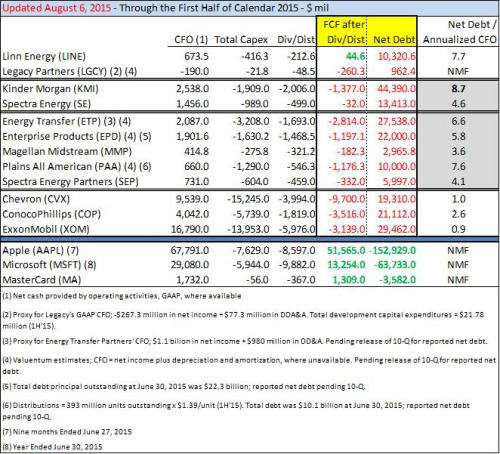 A myopic view on the energy sector may lead one to ask the question whether the distributions of energy master limited partnership are safe. A broadminded view would answer that question in two words: absolutely not.
Through the first six months of 2015, almost every energy-related MLP has spent more in total capital expenditures and distributions than they generated in cash flow from operations. Business models with financials such as these cannot be sustainable over the long haul without infinite access to capital via the debt or equity markets. We learned that housing prices don't always go up (and that they can fall on a national scale) during the Financial Crisis, and we'll eventually learn that debt-infused business models that collectively spend more in capital and dividends than they generate in operating cash flow have limits, too.
From our point of view, dividend safety stems from significant free cash flow generation, as measured by cash flow from operations less all capital spending, and a pristine balance sheet that is flush with net cash. The financial structures of MLPs offer investors distribution risk, not distribution health. A view of the dichotomy we speak of is evident in looking at financial performance of asset-light, cash-rich entities such as Apple, Microsoft, and MasterCard, as shown in the table above. If investors are truly looking for strong cash-flow generation and pristine balance sheets, such a combination that translates to dividend health is simply difficult to find within the energy sector.
We're starting to see cracks in the business models of MLPs. Literally.
The Plains All American crude oil spill...
More