Bayer AG's BAYRY second-quarter 2017 core earnings per share from continuing operations was $1.99, which topped the Zacks Consensus Estimate of $1.87. Earnings were down 12.7% year over year from $2.28 per share.
Total sales in the quarter were approximately $13.4 billion, up 3% year over year but missed the Zacks Consensus Estimate of $14.5 billion.
Bayer's share price has increased 25.2% year to date, outperforming the Zacks classified industry's 10.7% rally.

All growth rates mentioned below are on a year-over-year basis and after adjusting for currency and portfolio changes.
Second-Quarter Highlights
Effective from the first quarter, Bayer reports results under five divisions – Pharmaceuticals, Consumer Health, Crop Science, Animal Health and Covestro.
Revenues at the Pharmaceuticals segment increased 4.4% to €4,304 million backed by a persistently strong performance of the key products Xarelto, Eylea, Xofigo, Stivarga and Adempas. Also, the company expanded its business with the hormone-releasing intrauterine devices of the Mirena product family and benefited from the launch of the new low-dose intrauterine device, Kyleena.
Moreover, Bayer recorded an increase in sales of its diabetes treatment Glucobay and its Aspirin Cardio product for the secondary prevention of heart attacks owing to the positive development of business in China.
However, Consumer Health sales were down 2.2% to €1,542 million due to declines in sales in North America, particularly in the U.S., owing to the challenging market environment. But the company expanded its business in Latin America and Europe / Middle East / Africa.

Crop Science sales were €2,163 million in the second quarter down 15.8% year over year. The decrease was due to significantly higher provisions for product returns – specifically crop-protection products – in Brazil. In fact, regular stocktaking at the end of the harvest season revealed high channel inventories in the Brazilian market, which requiries measures to be taken to normalize the situation. Notably, Bayer witnessed a decline of €428 million in sales therein. Excluding this, the Crop Science was up slightly year on year, on a currency adjusted basis.

Furthermore, sales growth recorded at Environmental Science was based on the delivery of products to the company that acquired its consumer business.

Sales of the Animal Health segment came in at €450 million, up 2.1%. In the reported quarter, sales improved positively in the regions of North America, besides progressing well in Asia Pacific region. The development in North American region was on the back of the U.S. sales generated by the Cydectin product portfolio, which the company acquired from Boehringer Ingelheim Vetmedica, Inc.

Meanwhile, Covestro garnered sales of approximately €3,479 million in the quarter, up 15.8% year over year, driven by higher selling prices especially at Polyurethanes. Volumes were at par with the year ago quarter. In fact, on Jun 7, Bayer reduced its directly held interest in Covestro from 53.3% to 44.9%, by placing 17.25 million shares at a price of €62.25 per share.

2017 Outlook

Based on the performance at Crop Science and Consumer Health, Bayer revised its outlook for 2017.
The company now expects sales to increase to more than €49 billion in 2017 compared with its previous expectation of around €51 billion. This corresponds to a mid-single-digit (previously mid- to high-single-digit) percentage increase on a currency- and portfolio-adjusted basis.

Bayer anticipated core earnings per share from continuing operations to grow by a low- to mid-single-digit percentage down from its previous expectation of mid-to high-single-digit percentage.

Our Take
Bayer surpassed earnings estimates but missed and revenue estimates in the second quarter of 2017. The company experienced a significant decline in sales and earnings in the Crop Science segment due to high channel inventories in Brazil. Business declined at Consumer Health, primarily due to the difficult market environment in the U.S.
Nevertheless, the company is looking forward to acquire Monsanto Company MON in a deal worth approximately $66 billion.
Bayer AG Price, Consensus and EPS Surprise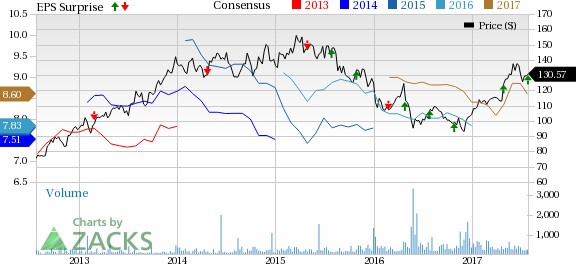 Zacks Rank & Stocks to Consider
Bayer currently carries a Zacks Rank #3 (Hold). Better-ranked health care stocks in the same space include Enzo Biochem, Inc. ENZ and Sanofi SNY. While Enzo Biochem sports a Zacks Rank #1 (Strong Buy), Sanofi holds a Zacks Rank #2 (Buy). You can see the complete list of today's Zacks #1 Rank stocks here.
Enzo Biochem's loss per share estimates narrowed from 12 cents to 7 cents for 2017 and from 11 cents to 3 cents for 2018, over the last 30 days. The company delivered positive earnings surprises in all the trailing four quarters, with an average beat of 55.83%. The share price of the company has increased 62.7% year to date.
Sanofi's earnings per share estimates increased from $3.18 to $3.20 for 2017 and from $3.30 to $3.36 for 2018, over last 30 days. The company pulled off positive earnings surprises in three of the trailing four quarters, with an average beat of 5.10%. The share price of the company has increased 18.7% year to date.
More Stock News: Tech Opportunity Worth $386 Billion in 2017
From driverless cars to artificial intelligence, we've seen an unsurpassed growth of high-tech products in recent months. Yesterday's science-fiction is becoming today's reality. Despite all the innovation, there is a single component no tech company can survive without.
Demand for this critical device will reach $387 billion this year alone, and it's likely to grow even faster in the future. Zacks has released a brand-new Special Report to help you take advantage of this exciting investment opportunity. Most importantly, it reveals 4 stocks with massive profit potential. See these stocks now>>
Want the latest recommendations from Zacks Investment Research? Today, you can download 7 Best Stocks for the Next 30 Days.
Click to get this free report
Sanofi (SNY): Free Stock Analysis Report
Bayer AG (BAYRY): Free Stock Analysis Report
Enzo Biochem, Inc. (ENZ): Free Stock Analysis Report
Monsanto Company (MON): Free Stock Analysis Report
To read this article on Zacks.com click here.
Zacks Investment Research