Logitech International SA LOGI continues its impressive streak of earnings beats for the seventh consecutive quarter. The company reported its first-quarter fiscal 2018 adjusted earnings (including stock-based compensation expense adjustments) of 22 cents per share, beating the Zacks Consensus Estimate of 17 cents by 29.1%.
On a non-GAAP basis, the company's earnings per share came in at 24 cents, up 20.0% year over year. Remarkable year-over-year rise in the bottom line was driven by strong top-line performance. Also, Logitech's concerted efforts to drive cost efficiency proved conducive to overall earnings and profitability growth.
Net sales for the quarter rose an impressive 10.0% year over year to $529.9 million, surpassing the Zacks Consensus Estimate of $521 million. Double-digit rise in sales across most of the product lines in all the three geographies, namely, Americas, EMEA, and Asia, drove year-over-year top-line growth.
Segment-Wise Performance
Creativity and Productivity business comprises four sub-business lines – Keyboards and Combos, Pointing Devices, PC Webcams, and Tablet and Other Accessories. Of these, Keyboards and Combos remained flat as high sales in the Americas and the EMEA region was offset by decline in sales in the Asia-Pacific region. Pointing Devices sales were up 5% to $122.1 million, driven by solid demand for mouse and the recently introduced Spotlight presentation device.
Greater proliferation of personal broadcasting mediums, including video blogging, proved conducive to sales growth of PC webcams. Encouragingly, the Tablet and Other Accessories segment witnessed a rebound as sales grew 67% to $23.2 million. Rapid market traction of the newly introduced products including, Slim Combo Case for the iPad Pro and Rugged Combo family of products, drove sales of the tablet segment.
Gaming surged 38% year over year to $77.7 million, driven by double-digit growth from all three regions. On the other hand, Video Collaboration grew 49% to $35.6 million on the back of double-digit increase from all three regions. Rising demand from companies, both large and small, for video-enabling huddle rooms and conference rooms drove sales growth of this segment.
The Music business, which comprises Mobile Speakers units and Audio-PC & Wearables, witnessed mixed performance. Mobile Speaker sales rose 10% to $62.9 million, led by impressive market traction of Ultimate Ears and Wonderboom product lines. However, this was largely offset by the drab performance of the Audio PC & Wearables segment, which fell 11% during the first quarter of fiscal 2018, driven by the Jaybird buyout.
In addition, sales under the Home Control category increased 47% to $16.5 million, driven by continued demand for smart home products. Integration of voice assistants (such as Alexa and Google Assistant) into Harmony Hub proved conducive to the sales performance of this segment.
During the first quarter of fiscal 2018, Logitech generated record non-GAAP gross margin growth, up 140 basis points (bps) to 37.0% year over year. Cost savings across all product lines drove the gross margin improvement. Non-GAAP operating margin for the company expanded a remarkable 20 bps year over year to 8.1%, as non-GAAP operating income jumped 13.8% year over year to $43.0 million on top-line strength. Though higher gross margins boosted operating income, higher investments offset some of this improvement.
Logitech International S.A. Price, Consensus and EPS Surprise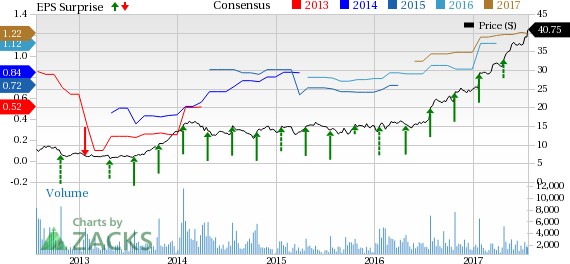 Logitech International S.A. Price, Consensus and EPS Surprise | Logitech International S.A. Quote
Liquidity
As on Jun 30, 2017, Logitech's cash and cash equivalents were $527.6 million compared with $547.5 million as of Mar 31, 2017.
Guidance Raised
Concurrent with the first-quarter fiscal 2018 results, Logitech raised its full-year 2018 guidance. Currently, it expects non-GAAP operating income in the range of $260–$270 million compared with the earlier guided range of $250–$260 million. Also, it now anticipates constant currency fiscal 2018 sales in the range of 10–12%, compared with the earlier projection of high single-digit growth.
The upward revision is mainly attributable to the recent Astro Gaming buyout. This acquisition will enable Logitech to explore the console gaming market and help accelerate long-term growth of its gaming business.
To Conclude
Logitech entered fiscal 2018 on a robust note, with both healthy top and bottom-line beats. The raised guidance is likely to go down well with investors. The all-pervasive increase of its retail business is a major positive and is likely to continue, going forward. Also, the Zacks Rank #2 (Buy) company's diligent cost-cutting efforts add to its strength. Logitech remains optimistic that the steady traction of its product lines, as well as positive industry trends will continue to fuel growth.
We believe that the thriving cloud-based video-conferencing services, strategic product launches and restructuring actions will continue to be growth drivers. The company has been able to leverage its software and go-to-market capabilities to drive market share gains. In addition, the Astro buyout catches the eye as it is expected to be slightly dilutive to the bottom line in the first year, due to integration expenses and investments.
Other Stocks to Consider
Some other stocks in the broader sector include Applied Optoelectronics, Inc. AAOI, Red Hat, Inc. RHT and Applied Materials, Inc. AMAT. While Applied Materials and Red Hat sport a Zacks Rank #1 (Strong Buy), Applied Materials holds the same Zacks Rank as Logitech.
Applied Optoelectronics has a whopping average earnings surprise of 118.3% for the trailing four quarters, beating estimates all through.
Red Hat, Inc. has a robust earnings surprise history, with an average positive surprise of 11.1%, driven by consecutive earnings beats over the trailing four quarters. You can see the complete list of today's Zacks #1 Rank stocks here.
With four back-to-back beats, Applied Materials has an average positive surprise of 3.4% for the trailing four quarters.
More Stock News: Tech Opportunity Worth $386 Billion in 2017
From driverless cars to artifical intelligence, we've seen an unsurpassed growth of high-tech products in recent months. Yesterday's science-fiction is becoming today's reality. Despite all the innovation, there is a single component no tech company can survive without. Demand for this critical device will reach $387 billion this year alone, and it's likely to grow even faster in the future.
Zacks has released a brand-new Special Report to help you take advantage of this exciting investment opportunity. Most importantly, it reveals 4 stocks with massive profit potential. See these stocks now>>

Want the latest recommendations from Zacks Investment Research? Today, you can download 7 Best Stocks for the Next 30 Days.
Click to get this free report
Logitech International S.A. (LOGI): Free Stock Analysis Report
Red Hat, Inc. (RHT): Free Stock Analysis Report
Applied Optoelectronics, Inc. (AAOI): Free Stock Analysis Report
Applied Materials, Inc. (AMAT): Free Stock Analysis Report
To read this article on Zacks.com click here.
Zacks Investment Research