Define irony: after earlier in the week speculators went massively short the 2Y and 5Y, pushing the repo rate "super special" and deep in negative territory on hopes of disappointing auctions, it was the 2 and 5 Year auctions earlier this week which were surprisingly strong forcing yet another round of mistimed short covers. And as fate would have it, it was today's 7 Year "belly" auction that was ignored by most. It was also the 7 Year that just priced in a surprisingly weak auction, coming to life with a yield of 1.834%, stopping well through the 1.826% When Issued. Confirming the weakness was also the Bid to Cover, which at 2.369 was the lowest since November of 2013.
The one place were there was less surprise was the internals: Indirects continued to gobble up every piece of paper they can find, taking down 52.32% of the auction, above the TTM average, as Directs left with 10.5% of the auction, leaving 37.2% to Dealers.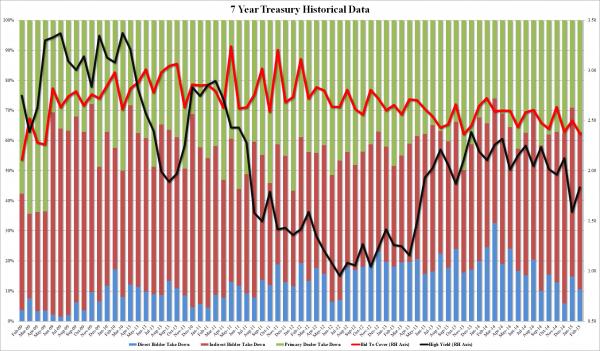 Once the rest of the curve learned how unsightly today's last for the week auction was, it promptly sold off, with the kneejerk reaction pushing the 10 Year back above 2.00%.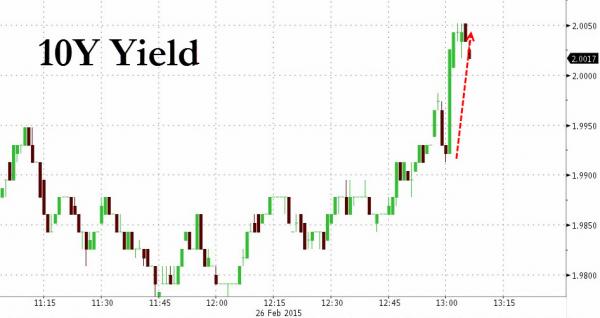 However one thing that does give us comfort in light of today's bond weakness is that BofA' "stolperish" MacNeil Curry, came out today with a reco to sell the 10 Year, saying "Treasuries are resuming the bear trend" and citing Elliott Wave "analysis."
Time to sell TYM4. US Treasuries are resuming the bear trend 

 

We turned bearish on Treasuries last week, looking for 10yr yields to break the 100d at 2.131% ahead of a push to 2.347%/2.428% and potentially beyond. Now, Elliott Wave analysis says that the 7d yield pullback into 1.840%/1.953% resistance looks to be completing and the larger bear trend is poised to resume. Further supportive of this bearish view is the turn in the weekly ADX and negative seasonality. Given this backdrop, we wish to sell the June Ten Year Note future at market for a resumption of this bear trend. Our downside target is 124-15/124-00, which is roughly equivalent to the 2.347%/2.428% zone. Our stop is just above 129-00, which equates to the 1.840% level in 10yr yields.

 

**Sell TYM5 at market (128-00), risk 129-02, target 124-15, potentially 124-15
We give this trade reco one week before it too is stopped out.