What happened
Shares of hydrogen fuel-cell maker Plug Power (NASDAQ: PLUG) gained a healthy 9.2% in October, rising from $2.61 per share at the start of the month to $2.85 per share at the end -- and that's not even the amazing thing. At one point early in the month, Plug Power stock was up nearly 14% from its starting price, and over the past two weeks, the stock has surged as much as 13%.
But neither of those two factoids are the amazing thing, either.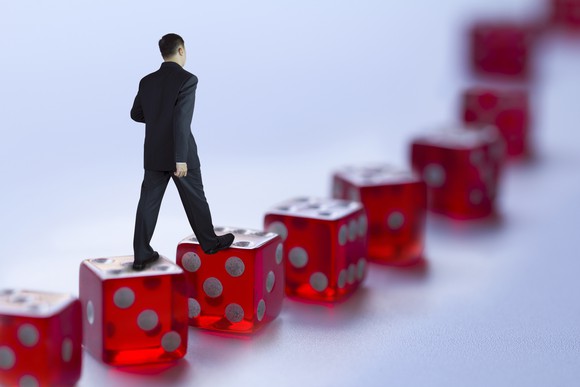 Plug Power stock went on another random walk last month. Luckily for investors, this time it walked up. Image source: Getty Images.
So what
No, the really amazing thing about all these sharp movements in price at Plug Power stock is that they were entirely unexplained by any news  of any sort that would explain their rise. No insider buying. (That was last month.) No earnings announcements. (That comes later this month). 
No news of any kind.
Now what
It almost goes without saying that preceding pretty much all of these sharp rises in the price of Plug Power stock were equally dramatic downturns in Plug Power's share price -- and likewise on no news of note. In fact, this is probably the most important lesson that investors can learn from Plug Power's stock movements last month: Sometimes, stocks move up or down for no good reason at all.
Such movements aren't necessarily evidence of "shorts" at work, or of bankers on Wall Street who know something you don't. They're evidence of nothing more than the fact that Princeton Professor Burton Malkiel was right when he observed that stocks sometimes stagger along in an entirely random walk.
My advice? Don't waste time trying to find sense in senseless stock price movements. Real news will appear soon enough. To wit, Plug Power reports its third-quarter 2017 earnings on Nov. 8.
10 stocks we like better than Plug Power
When investing geniuses David and Tom Gardner have a stock tip, it can pay to listen. After all, the newsletter they have run for over a decade, Motley Fool Stock Advisor, has tripled the market.*
David and Tom just revealed what they believe are the 10 best stocks for investors to buy right now... and Plug Power wasn't one of them! That's right -- they think these 10 stocks are even better buys.
Click here to learn about these picks!
*Stock Advisor returns as of October 9, 2017
Rich Smith has no position in any of the stocks mentioned. The Motley Fool has no position in any of the stocks mentioned. The Motley Fool has a disclosure policy.