KLA-Tencor Corporation KLAC reported first-quarter fiscal 2018 earnings of $1.80 per share, beating the Zacks Consensus Estimate by 17 cents. The figure surged 55.2% from the year-ago quarter
Revenues increased 29.2% from the year-ago quarter to $969.6 million, which comfortably surpassed the Zacks Consensus Estimate of $943 million. The figure was almost in line with the high end of management's guidance of $910-$970 million.
Products revenues (almost 78.5% of total revenues) increased 35.4% year over year to $760.8 million. The figure was better than the consensus estimate of $740 million.
Services revenues (21.5% of total revenues) increased 10.5% from the year-ago quarter to $208.8 million, which was also better than the consensus estimate of $202 million.
KLA's shares have returned 39.7% year to date, substantially underperforming the 65.9% rally of the industry.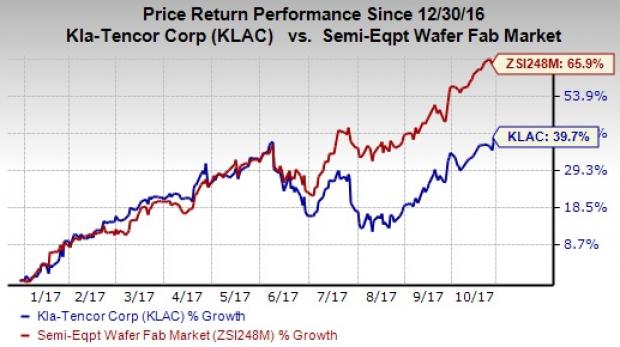 Stable Shipments Drove Top Line
Shipments in the first quarter were $977 million, up 0.6% sequentially and within the guidance of $945 million to $1.025 billion. New orders totaled approximately $3 billion on a year-to-date basis in 2017.
Foundry customers accounted for 40% (as compared with guidance of 42%) of shipments, 46% of memory (as compared with guidance of 46%) and 14% of logic.
In terms of end market, Wafer Inspection, Service, Non semi (includes back-end component inspection business) and Patterning (includes shipments from reticle inspection business) contributed 46%, 21%, 3% and 30% of shipments, respectively.
KLA continues to experience strong growth for its Wafer Inspection solutions. Management stated that new capacity addition by Wafer manufacturers and adoption of more complex architectures by IC customers are driving demand for new bare wafer products. These are needed to support more stringent wafer flatness and process tool cleanliness specifications in advanced technologies.
Moreover, Gen 5 broadband plasma wafer inspection platform continues to gain momentum in the marketplace. Management expects the solution to continue to support customers in development of 7-nanometer (nm) technology. It is also expected to have a larger role on the development and ramp of the 5-nm, node.
Geographically, Korea, the United States and Taiwan contributed 34%, 19% and 17% to shipments, respectively. China accounted for 10% of shipments in the quarter.
Management noted that China was strong both in terms of both process control adoption and market share gains.
Operating Details
KLA's gross margin expanded 60 basis points (bps) on a year-over-year basis to 63.7%. The year-over-year growth was driven by favorable product mix and operating leverage.
Operating expenses, as percentage of revenues, declined 330 bps from the year-ago quarter to 26%.
As a result, operating margin expanded 390 bps to 37.8%.
Balance Sheet
KLA ended the quarter with cash and short-term investments balance of $3.06 billion, up $39.7 million from the previous quarter. Cash from operations was $374 million in the quarter and free cash flow was $358 million.
Guidance
For second-quarter fiscal 2018, KLA expects shipments of $945 million to $1.025 billion.
Revenues are expected between $930 million and $990 million.
Management expects foundry orders to be approximately 20% of shipments in the second quarter. Memory shipments are anticipated to be 60%, with NAND representing 55% of the mix. Logic is currently projected to be 14% of the shipment.
KLA expects gross margin in the range of 63% and 64%. Operating expenses are expected to be $260 million.
Zacks Rank & Other Key Picks
Currently, KLA sports a Zacks Rank #1 (Strong Buy). You can see the complete list of today's Zacks #1 Rank stocks here.
A few other top-ranked stocks in the broader technology sector are Texas Instruments Inc TXN, Lam Research Corporation LRCX and Applied Materials Inc. AMAT. All the stocks sport the same Zacks Rank as KLA.
Long-term earnings growth rate for Texas Instruments, Lam Research and Applied Materials are currently pegged at 9.6%, 14.9% and 17.1%, respectively.
Wall Street's Next Amazon
Zacks EVP Kevin Matras believes this familiar stock has only just begun its climb to become one of the greatest investments of all time. It's a once-in-a-generation opportunity to invest in pure genius.
Want the latest recommendations from Zacks Investment Research? Today, you can download 7 Best Stocks for the Next 30 Days.
Click to get this free report
Texas Instruments Incorporated (TXN): Free Stock Analysis Report
KLA-Tencor Corporation (KLAC): Free Stock Analysis Report
Lam Research Corporation (LRCX): Free Stock Analysis Report
Applied Materials, Inc. (AMAT): Free Stock Analysis Report
To read this article on Zacks.com click here.
Zacks Investment Research