Many have lauded the recent opening of Amazon.com's AMZN eight brick-and-mortar stores in the U.S. as a death blow to independent bookstores. Since its launch in 1995 as an online retailer of books, Amazon has been blamed for the closing of bookstores nationwide because thanks to its wide-selection and low prices.
In an act of irony, the online retail giant has decided that its next step in its massive growth is to open brick-and-mortar bookstores where consumers can buy products in person. Amazon opened its first physical bookstore in 2015 in Seattle and has since opened seven more, including one in Chicago's Southport Corridor this past March.
As an avid book reader, and a lover of independent bookstores, I had my trepidations about visiting the new Amazon Books in Chicago. To see what kind of competition Amazon Books poses for bookstores in the Second City, I decided to head up to the Lakeview neighborhood and witness this new phenomenon for myself.
The Amazon Books Experience
As the first Amazon Books in the Midwest, the Amazon Bookstore is a blend of a bookstore, electronics store, and a coffee shop. The bookstore was sleek and modern, but it felt impersonal—like an airport gift shop. In some ways, the store felt like the Amazon website had come to life.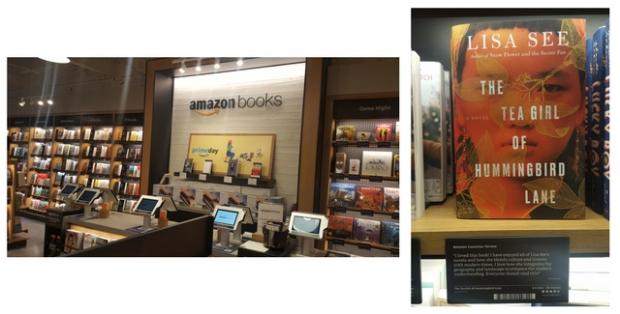 Jennifer Cast, a vice president at Amazon Books, said that Amazon wanted to embrace its roots as a bookseller with these new stores. "We also realized we had an opportunity to create a new kind of store and create a different experience in a physical world. Our special sauce is knowing the reading habits and passions of a city through our Amazon.com data," Cast said.
One Amazon Books innovation is the decision to display every book with its cover facing outward. As a result, their covers are always on display, with special lighting encasing each title. This strategy makes the books eye-catching, although it means that the store can't have as many books on its shelves.
Each book is displayed with an Amazon customer review beneath it so consumers can read for themselves what others thought, just as they would online. The store also includes the number of ratings and the average stars each book has obtained online.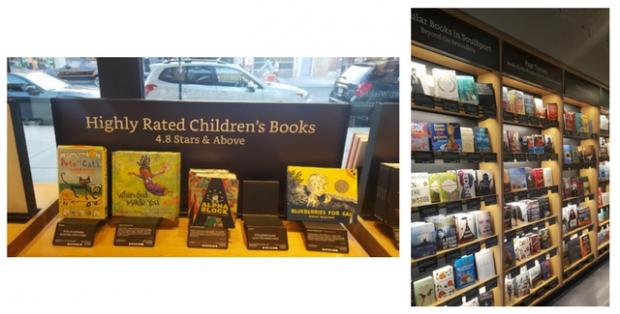 The books chosen to be sold in the store are based on algorithms and analytics. They also must have at least a 4 star (out of 5) rating on Amazon's website. Many of the books available for purchase are chosen from Amazon.com best-sellers list, book-buying trends, and online ratings, with some input from a curation team.
The books are organized by the common literature genres, but the store also has special categories meant to appeal to Amazon customers. One of my favorite shelves was "Page Turners: Books Kindle Readers Finish in 3 Days or Less."
A Prime Wonderland
The most important feature about Amazon Books wasn't the books, but the company's Prime membership.
The store clearly made the shopping experience worthwhile for anyone that currently subscribes to a Prime membership for $99-a-year. Throughout the store, price check machines stood ready. When I tried one book, it showed me the difference in price based on whether I had a Prime account or not.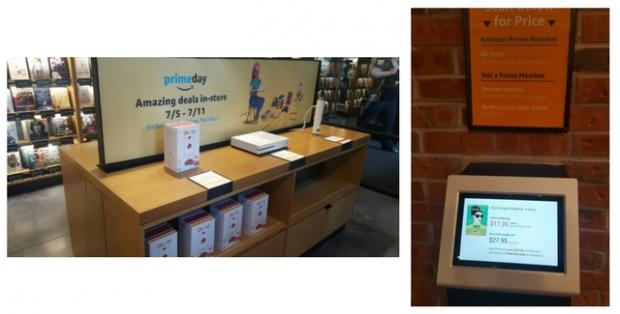 A Prime member could also obtain exclusive Amazon Prime Day deals at store locations. This year, Amazon had its most successful Prime Day yet. At its eight bookstores, it offered special deals on Microsoft MSFT Xbox Ones, Joule Sous Vide Precision Cookers, Osmo Genius Kits, and Philips Smart LED bulbs.
The store also served as a testing-ground for the variety of devices Amazon now manufactures. Beyond the Kindle, one can try the Fire Tablet, Fire TV, the Echo, and Echo Dot.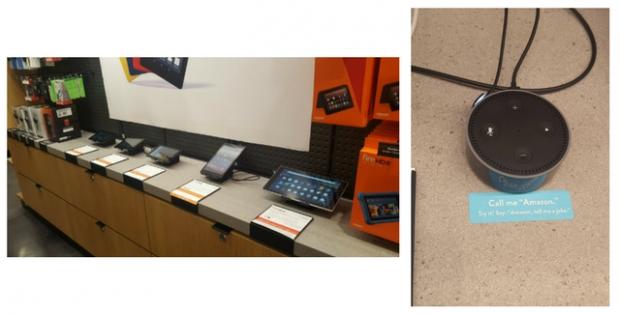 Many people go to Apple AAPL stores and Best Buy BBY in order to test out new technology before making expensive purchases. With this new testing site, Amazon is clearly trying to encourage consumers to commit to its voice-activated, Alexa-enabled devices that can play music, control home devices, make phone calls, and more.
A few workers constantly roamed the store and offered to help me try out the devices as I looked at them. The store also offers "Flash Course," 5-7 minute tutorials on how to use the technology, every Friday through Sunday.
The Bottom Line for Booksellers and Retailers
While these stores certainly have a lot to offer, their biggest appeal is their novelty. As I sat by the window drinking my Stumptown coffee, I saw at least one other person stop and take a photo—just as I had done before entering the store.
And if anyone should be worried about new Amazon bookstore, it won't be indie booksellers.
Readers who are willing and able to pay for the price and experience of independent bookstores will continue to do so. Chicago favorites, like Women and Children First in Andersonville and Myopic Books in Wicker Park, won't be going anywhere anytime soon. At least, not because of Amazon's physical bookstores.
The companies that stand the most to lose are big retailers like Barnes & Noble BKS. While Barnes & Noble offers a good membership program for $25 a year (which includes free shipping, over $50 in coupons, and member-exclusive deals), this subscription seems unnecessary if one already pays for Prime.
So while I won't stop going to independent bookstores any time soon, the convenience and deals available through Amazon could convince me, and many others, to switch my periodic purchases from Barnes & Noble to Amazon Books.
But it's hard to picture Amazon sticking to just bookstores. With its recent acquisition of Whole Foods Market WFM, Amazon seems to be moving into brick-and-mortar territory for the long term.
Amazon also launched a mobile payment feature called Amazon Pay Places this week. Like it or not, Amazon is well on its way to being a part of nearly every purchase we make.
Will You Make a Fortune on the Shift to Electric Cars?
Here's another stock idea to consider. Much like petroleum 150 years ago, lithium power may soon shake the world, creating millionaires and reshaping geo-politics. Soon electric vehicles (EVs) may be cheaper than gas guzzlers. Some are already reaching 265 miles on a single charge.
With battery prices plummeting and charging stations set to multiply, one company stands out as the #1 stock to buy according to Zacks research.
It's not the one you think. See This Ticker Free >>
Want the latest recommendations from Zacks Investment Research? Today, you can download 7 Best Stocks for the Next 30 Days.
Click to get this free report
Amazon.com, Inc. (AMZN): Free Stock Analysis Report
Apple Inc. (AAPL): Free Stock Analysis Report
Microsoft Corporation (MSFT): Free Stock Analysis Report
Best Buy Co., Inc. (BBY): Free Stock Analysis Report
Barnes & Noble, Inc. (BKS): Free Stock Analysis Report
Whole Foods Market, Inc. (WFM): Free Stock Analysis Report
To read this article on Zacks.com click here.
Zacks Investment Research