Shares of the Gap (GPS) have been choppy in 2016, choppy and bearish, but it could be turning bullish.

GPS Daily Chart 10/27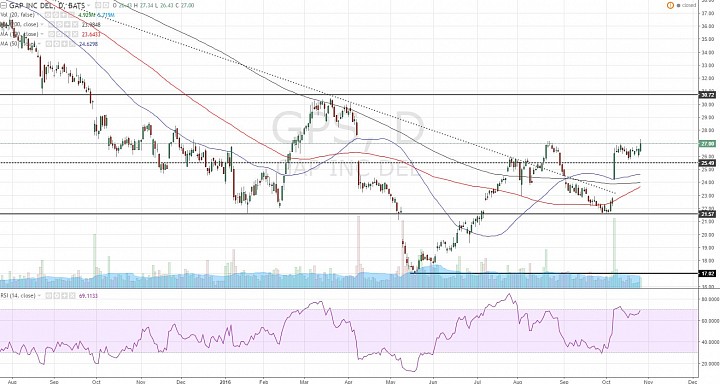 (click to enlarge)
Breaking patterns:
- We can see that price has been falling since at least April of 2015. (it was trading sideways for almost a year before that).
- Price action became a bit choppier in 2016, but was able to push to a new low a hair above 17.00.
- Since then, price has came up and broke a falling trendline.
- Furthermore, price action established a key pivot near 21.60, creating a higher low, and thus breaking the prevailing lower-lower pattern of a downtrend.
Bullish anticipation:
- As price climbs above 27.00, we should probably anticipate another 10% or high pop towards the 30-30.75 support/resistance pivot area. We will want to see more evidence of a bullish reversal to consider GPS above 31. 
To sum it up, these are the reasons I believe GPS is up for a bullish reversal:
- The increased choppiness,
- broken trendline,
- higher low and now a higher high,
- and the fact that price is trading above the 200-, 100-, and 50-day simple moving averages.