In addition to the EIA's amusing oil price forecast, which as noted previously leaves quite a bit to be desired considering it was a year ago that the EIA completely failed to anticipate the plunge in crude prices, which have collapsed far below its worst case estimate...
... there is another more substantial problem with the EIA predicting a consistent increase in oil output for the next 25 years.
That something is revealed when looking at the most recent Bakken shale production data, which earlier today revealed yet another month of declining total output, which after peaking in December is at 1.2 million barrels per day, as can be seen on the chart below.
However, it is not the total output, but the productivity of any given well that is troubling. As can also be seen on the chart below, the output per Bakken well has tumbled to 3,410, down from the 3862 recorded the month before, and the lowest since early 2009.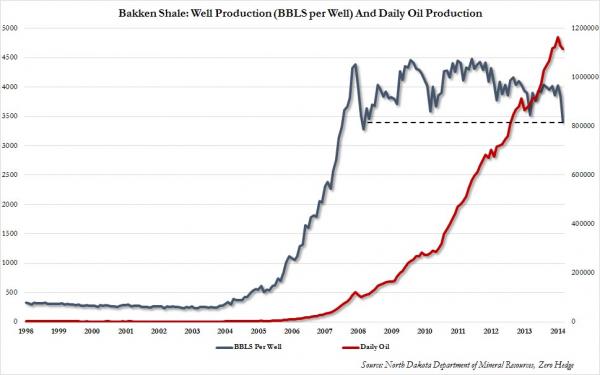 To be sure, there is a seasonal component to the February well output drop, which includes maintenance and other February factors, however, the magnitude of the monthly drop was undisputedly an outlier, as the 12% slide was the biggest monthly drop since January 2009 suggesting there is more here than simply seasonals.
So how is it that total production is just modestly lower when well production is tumbling? Simple: the number of wells continues, or rather continued as of February, to rise exponentially.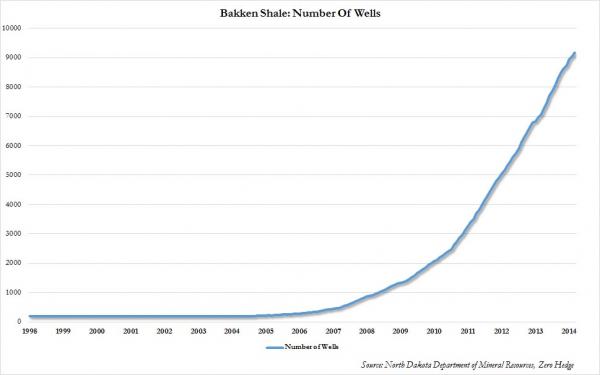 The question is how much longer can this surge in well numbers continue when as Baker Hughes has already reported, the oil rig count has been plunging in the past several months?
So the question for the EIA is this: what is the productivity deus-ex that is allowing such a generous forecast in the continued increase in total oil production, or if none, what is the estimate for the total number of Bakken shale rigs in the near and not so near future, and how does the EIA square that assumption with an energy industry whose capex spending has fallen off a cliff.
In any event, something is off: either US oil production is set to tumble, leading to another junk bond, and equity, rout among the energy companies (which as noted earlier are now trading at a near record high 32x forward PE), or oil production will continue rising and lead to another steep drop in prices, because without a dramatic pick up in demand, all this extra oil is merely piling up in Cushing and in various other storage hubs around the country, where it is merely awaiting for the tiniest increase in oil prices before hitting the market.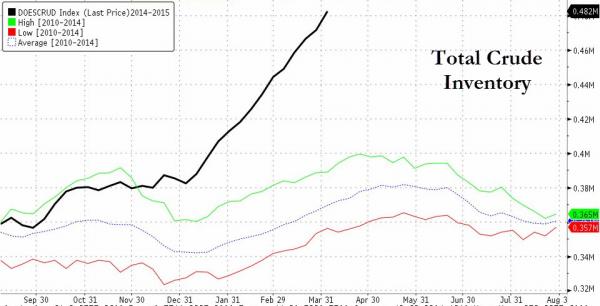 Source: North Dakota Dept of Mineral Resources