Facebook FB has announced that it will be opening its subsidiary platform, Messenger, to worldwide advertisers, albeit for test run only, underscoring the company's efforts to monetize the platform.
Per the company's blog, a successful beta run in Australia and Thailand has encouraged it to roll out the service worldwide. Ads will be available to advertisers on both Ads Manager and Power Editor.
Users will now be able to see ads in the home tab of the Messenger mobile app. This, when tapped, will redirect the user to either an advertiser's website or a Messenger conversation.
Facebook, Inc. Price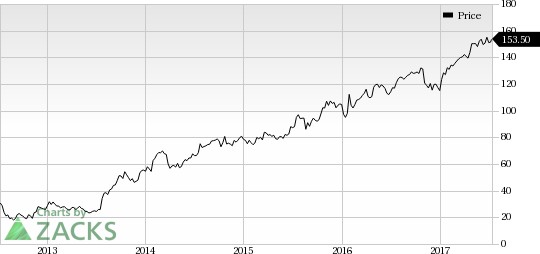 Messenger is Facebook's third platform, with more than billion users. Consistent growth in its user base has sparked the debate that Facebook should now make efforts to monetize the platform. This is especially necessary as the high growth rates of ad revenues from its Facebook platform have started to slow down.
Since the past few quarters, the company has maintained that ad revenues will continue to grow but will face tougher year-over-year comparisons. Moreover, as Facebook continues to ramp up investments, costs are already on the rise. With the company planning to go on a hiring spree next year (especially engineers), it will add to costs.
Notably, ad revenues contribute over 95% to Facebook's total revenue. Continuous rise in advertising revenues as well as the company's strategic efforts to sustain growth momentum has made Facebook an investors' favorite. Interestingly, in the past one year, the company's shares returned 33% compared with the Zacks Internet Services industry's gain of 21%.

Consequently, to battle decelerating ad revenue growth rates, the social media giant is aggressively working on monetizing the opportunities presented by its subsidiaries. Chatbots and conversational commerce were expected to be main strategies for monetization of both WhatsApp and Messenger. Business Insider points out that displaying the usual ads will "mark a change of course for Messenger."
However, it is to be noted that digital ad landscape is highly competitive, with the likes of Alphabet's GOOGL YouTube, Twitter TWTR and Snap Inc SNAP vying for a big share of the pie.
Earlier this year, Facebook had collaborated with TransferWise Ltd., a money transfer service that will enable users to make international transactions over the Messenger app.
Moreover, Facebook's artificial intelligence (AI) powered voice assistant, M for Messenger, is helping users with suggestions to improve their communication experience on the app.
Currently, Facebook carries a Zacks Rank #3 (Hold). You can see the complete list of today's Zacks #1 Rank (Strong Buy) stocks here.
More Stock News: 8 Companies Verge on Apple-Like Run
Did you miss Apple's 9X stock explosion after they launched their iPhone in 2007? Now 2017 looks to be a pivotal year to get in on another emerging technology expected to rock the market. Demand could soar from almost nothing to $42 billion by 2025. Reports suggest it could save 10 million lives per decade which could in turn save $200 billion in U.S. healthcare costs.
A bonus Zacks Special Report names this breakthrough and the 8 best stocks to exploit it. Like Apple in 2007, these companies are already strong and coiling for potential mega-gains.Click to see them right now >>
Want the latest recommendations from Zacks Investment Research? Today, you can download 7 Best Stocks for the Next 30 Days.
Click to get this free report
Facebook, Inc. (FB): Free Stock Analysis Report
Alphabet Inc. (GOOGL): Free Stock Analysis Report
Twitter, Inc. (TWTR): Free Stock Analysis Report
Snap Inc. (SNAP): Free Stock Analysis Report
To read this article on Zacks.com click here.
Zacks Investment Research