I usually don't like going against the trend, and USD/JPY appears to be in a bullish one at least in the short-term. 
USD/JPY 1H Chart 9/1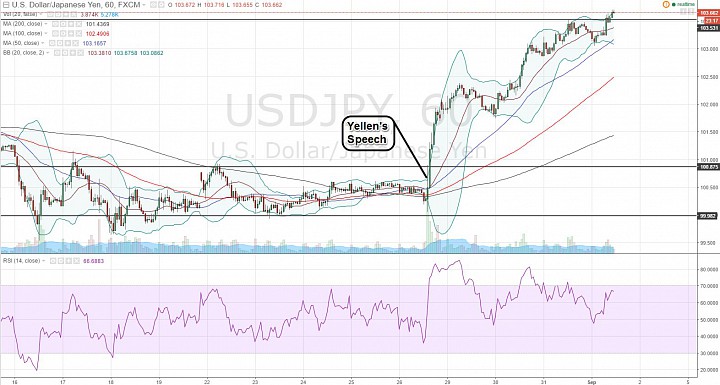 (click to enlarge)
Yellen's boost:
- Yellen spoke last Friday and the market interpreted her tone as hawkish. 
- In other words, the market believes more likely than not that there will be a rate hike by the end of the year, likely in December.
- The rate hike prospect prompted USD buying, especially against the JPY because the BoJ is keeping a very loose monetary policy stance. 
Bearish divergence:
- first it should be noted that in the 1H chart, we see a bullish trend in the very short-term.
- Price is above the 200-, 100-, and 50-hour simple moving averages (SMAs), and the RSI has tagged above 70 while holding above 40. 
- This strong uptrend however could be slowing down and suggested by a bearish divergence between price and the 1H RSI.
USD/JPY Daily Chart 9/1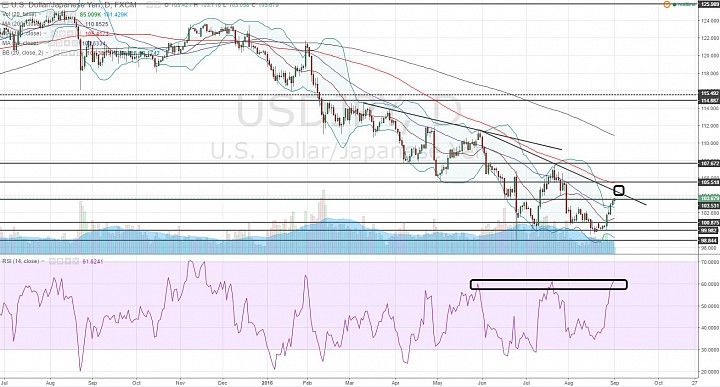 (click to enlarge)
A few more resistance factors:
- There is a support/resistance pivot around 103.50, but so far USD/JPY appears to be pushing through.
- Now, if price continues higher, 104 will be an interesting level.
- 104 is a psychological level, that was also a common support pivot for a few days in June and July. 
- Now, the RSI is at a place where it should turn down IF the overall bearish momentum is to remain. With price action turning more sideways however, I don't think this will be the case. 
Look for more signals first:
- So, there are some minor signs of resistance, but what we should look for is price to actually flatten in the 1H chart.
- Also, we want to see the 1H RSI fall below 40 before we call it a top to the short-term rally.  
I am actually looking for a dip to buy on, but in the very short-term, I think I would consider shorting if price indeed flattens instead of breaking above 104. However, I would temper my bearish expectation to 102 with an aggressive target of 101.