"Make Thousands Of Dollars Working From Home!"
Sounds like a scam, doesn't it? Sadly, oftentimes it is.
However, FlexJobs sifts through the dross to find flexible employment gold, to create a database of 25,000 companies for people seeking such opportunities.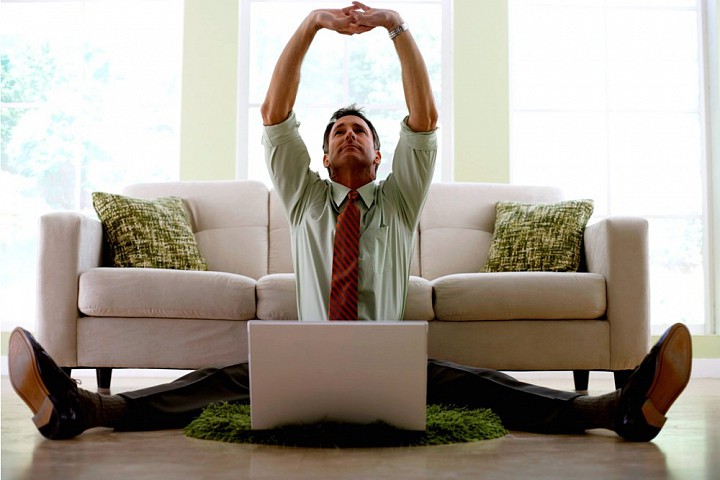 The site recently compiled its annual list of the 100 top companies offering partial and full telecommuting job opportunities, which was based on an analysis of the job posting history of the employers in its database. (Click here to see this summer's 50 most surprising flexible jobs.)
"The great news is remote work options are – and have been – on the upswing within companies. But the bad news is that it is still really difficult for most job-seekers to find these legitimate job opportunities amidst the scam, junk, and ads mixed in on most job boards out there. With this list, we want to help guide job-seekers to some of the leading, trusted companies that have shown that they incorporate telecommuting in their hiring practices," says Sara Sutton Fell, FlexJobs founder and CEO.
According to this year's list, the top industries offering remote work opportunities include healthcare, information technology, education, nonprofit and philanthropy, and sales and marketing. And flexible arrangements can be found with job titles such as sales representative, senior analyst, nurse case manager, account executive, Web or software developer, accountant, and virtual teacher.

Here is the full list of 100 companies most likely to hire remotely in 2014:

Xerox
UnitedHealth Group
Dell
Aetna
American Express
First Data
Humana
Westat
K12
ADP
Overland Solutions Inc.
CyberCoders
U.S. Department of Transportation
SAP
PayJunction
Connections Academy
Apple
IBM
HD Supply
Salesforce.com
Western Governors University
CACI International
About.com
McKesson Corporation
Aon
WellPoint
Forest Laboratories
Patch
Walden University
Pitney Bowes
Adobe Systems
Coventry Health Care
Clarity Consultants
Kenexa
General Electric – GE
Symantec
Microsoft
Thomson Reuters
Appen ButlerHill
Teradata Corporation
Computer Sciences Corporation – CSC
PAREXEL
BroadSpire
Red Hat
Healthfirst
Pharmaceutical Product Development Inc.
Infor
Optum
Precyse Solutions
Kaplan
Hartford Financial Services Group
Nuance
PricewaterhouseCoopers
CVS Caremark
AmerisourceBergen Corporation
American Public University System – APUS
Ecolab
Autodesk
Language Line Solutions
Sodexo
Kronos Incorporated
Fiserv
ICON
Mozilla
American Support
Canonical
BCD Travel
Mom Corps
Quintiles
Welcome Wagon
FlexProfessionals, LLC
Pearson Education
Zimmer
University of Maryland University College
Kelly Services
TEKsystems
CareFusion
Novartis
Unisys
Dignity Health
Enterprise Contact Center
ICF International Inc.
AIG
Cargill
Asurion
Lockheed Martin
SunAmerica Financial Group
VMware
Alere
Express Scripts
Health Net
Nielsen
Variable Annuity Life Insurance Company – VALIC
American Heart Association
Bausch & Lomb
Grand Canyon University
SumTotal Systems
Pacific Interpreters
Parallon
ACI Group