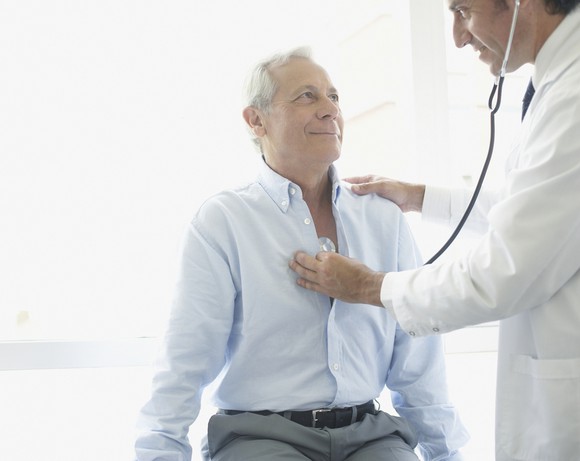 In the week since Donald Trump won the presidential election, the stock market has soared. However, real estate investment trusts, or REITs, have been an exception. One of my favorite REITs, Welltower (NYSE:HCN), has continued its recent decline and is now down nearly 20% over the past three months. Here's why long-term investors shouldn't be worried.
Why REITs aren't getting a "Trump rally"
In a nutshell, REITs get crushed when interest rates rise rapidly, which is exactly what happened after the election (the spike in the orange line in the chart below). And as you can see, the real estate sector and interest rates tend to move in opposite directions.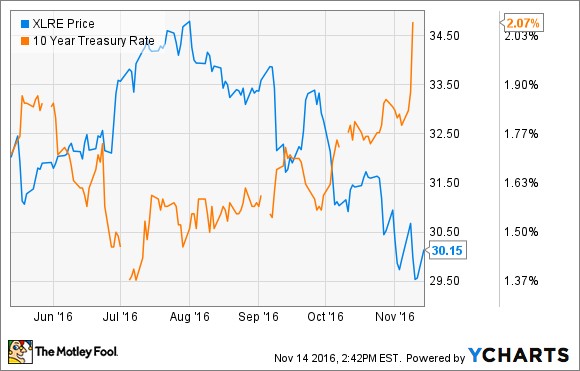 There are two main reasons for this. Most obviously, higher interest rates mean higher borrowing costs for REITs, which generally translate into lower profit margins on acquired properties. In addition, rising interest rates make lower-risk investments like Treasury bonds more attractive. Think about it this way: If a Treasury bond pays 3% while a high-quality REIT pays 5%, the REIT might be more appealing. If they both pay 5%, this may not be the case. For this reason, rising rates creates selling pressure on high-dividend stocks like REITs.
However, while the decline could certainly continue, I still feel high-quality REITs are a fantastic long-term investment. In Welltower's case, there are some compelling reasons to hang on.
Growth opportunities
Welltower has grown tremendously throughout its 45-year history and is now the sixth-largest U.S. publicly traded REIT, and the largest specializing in healthcare.
Despite this fact, there is plenty of growth opportunity ahead. For one thing, the healthcare real estate industry is highly fragmented. No company has more than 3% of the $1 trillion U.S. healthcare industry, and the market is still in the very early stages of consolidation.
In addition, Welltower has recently expanded into international markets (the U.K. and Canada), and has done so aggressively with $5 billion of investment within just a few years.
Finally...
More