For the next few days, I will be watching the USD/JPY closely for long intraday or swing setups.   Although we have seen some bearish price action in the past week, no significant supports have been broken, and the bigger picture is still bullish.
---
Price action is currently in a 382 Fibonacci level area on the 4-hour chart, which is a significant support area for trending markets.  Also, we are approaching attractive entry prices near previous lows.  I will be considering setups in this area for an entry long, including double bottoms and faking lower, followed by bullish candle analysis on the 60-minute chart.
---
Because this is an intraday or swing trade, my profit targets are a little longer term as well.  For an initial profit target, I would look to the top of previous highs, around the 105.00-105.500 area.  However, there is potential for a trade like this to travel further.  I would consider taking off half of my position at this initial price target, and let the rest ride higher.
---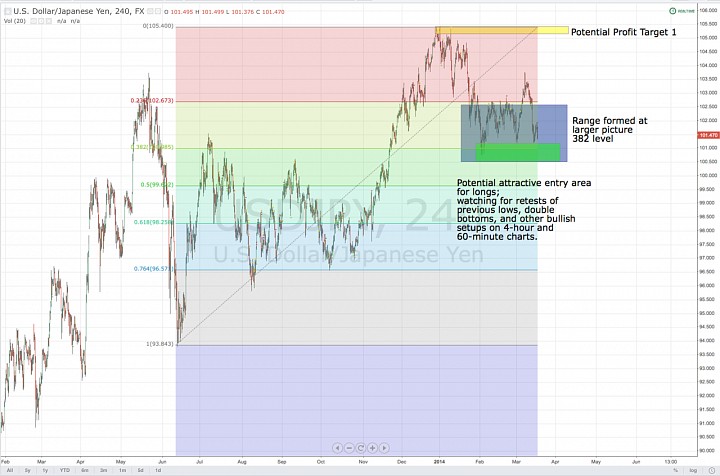 ---
Tonight and tomorrow night EST, Bank of Japan Gov. Kuroda is speaking, followed by a bank holiday.  I predict that this may cause the USD/JPY to behave sluggishly, or jump if Gov. Kuroda announces surprising news.  But I would read price action on the 60-minute and smaller charts as mostly noise during those times, and not seriously consider entry indicators until after the excitement dies down for a few hours.
---
If price action falls more dramatically from these news events and breaks the 100.500 area, I would become more conservative with my long considerations in the short term, and wait for new structure to form at a new level for long entries.
---
To learn more about the analysis and methodology used to provide this insight, visit http://smbu.us/smbwh