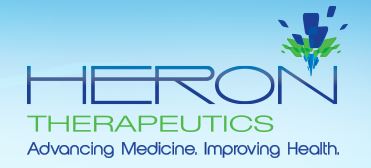 News from FDA approving a Heron Therapeutics (HRTX) product is good news. Chemotherapy-induced nausea and vomiting, which is a side-effect of chemotherapy, occurs in four of every five patients. HRTX's Sustol will be released in the fourth quarter.
Separately, Heron reported another loss ($1.17 per share) in the second quarter. It has around $2.75 in cash per share, and the stock trades at 2.6x book.
Technical charts show Heron bottomed on multiple occasions at $16.
In other biotech news:
Valeant's management reaffirmed confidence it will meet annual guidance. This is a low bar: 48% of the revenue was accomplished in 1H. I maintain my $29 PT here.
Array BioPharma (ARRY) plunged after its lung cancer drug failed to meet primary endpoint. This is a phase 3 study. This is a setback, but keep this stock on the watch list.
Perrigo (PRGO), CEO Papa's ex-company, reported terrible results and lowered its outlook. Steer clear of PRGO.