Yesterday, when we observed the latest record plunge in the Ukraine currency...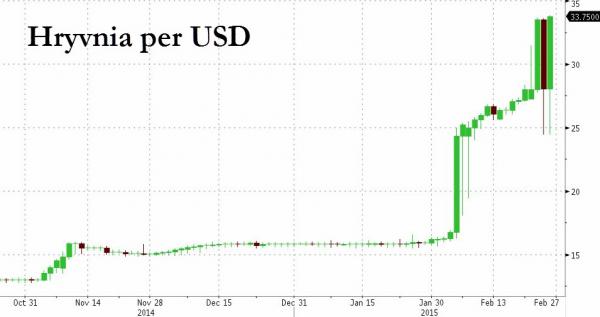 ... we predicted that the imploding, hyperinflating nation will "halt currency trading any minute." Again, because recall that this is precisely what Ukraine central bank head Gontareva did the day before, when the currency soared after all third party trades in the Hryvnia were blocked before the government stepped in and effectively shut down the market.
Well, Ukraine has so far not fully blocked all trading, yet, however hours ago Ukraine's central bank did the next best thing when it announced it would "boost restrictions on capital operations as it fights to quell panic that has triggered deposit withdrawals and depleted foreign-exchange reserves, Governor Valeriya Gontareva said" cited by Bloomberg.
Among the actions implemented the central bank will strengthen limits on activities including paying dividends, and impose a regime of examinations on all import operations that exceed $50,000. The hryvnia rebounded from a record low as the only remaining player in the FX space remains the central bank, and at least today it was buying. A lot: "the hryvnia gained 25 percent to 27 per dollar by 11:56 a.m. in Kiev, rising from the lowest close on record Thursday. Changes in central bank regulation leading to a higher supply of foreign-currency on the market were helping the hryvnia's appreciation, Stanislav Piletskyy, a Kiev-based treasurer at Citigroup Inc., said by e-mail."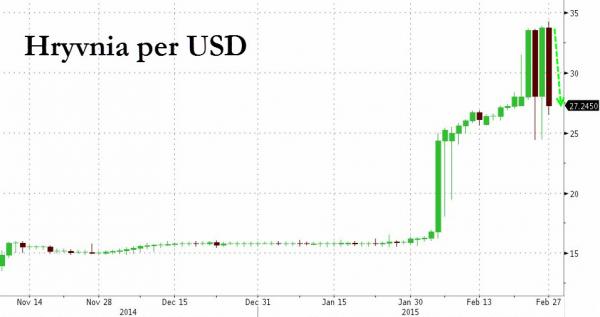 The problem is that the ramp will certainly not continue once the latest buying spell is exhausted, now that all confidence in the Ukraine currency is now lost, and the central bank has effectively assured of an unhappy ending with statement such as "Panic must be stopped and we are doing that now," Gontareva said. "For the time being, we are working not on canceling restrictions, but on new ones."
Needless to say, there is nothing that creates more panic than warning "panic must end or else..."
And as we noted in the "Endgame" article, Ukraine now faces an even bigger problem: running out of cash.
The central bank needs to strengthen bank owners' responsibility as a prerequisite for the International Monetary Fund-led bailout, Gontareva said. The country can drop capital controls when hryvnia is "back to fundamentals," she said, adding hryvnia should trade around 20 per dollar.

 

Depositors have withdrawn 17.2 billion hryvnia from banks this year, Gontareva said. Ukraine's reserves stood at $6.4 billion as of Jan. 31, down from $20.4 billion at end-2013 before the country's pro-Russian insurgency began.

 

Ukraine has lost two percentage points of its gross domestic product from the annexation of Crimea and 15 percentage points due to losing control over rebel-held areas in eastern Ukraine, she said.
Gontareva's punchline: "Ukraine has insufficient reserves, and huge capital outflow." Yes, we can see how that is a problem. And another problem: Ukraine made its bed and invited the west in it. It better hope that the west, and the IMF reciprocate, or else the entire nation will be completely insolvent as soon as 3 weeks from today at which point the country will run out of liquid reserves with which to fund imports and the economy grinds to a halt. All that will be needed then, is another coup to restore the balance that the US Department of State so eagerly destroyed a year ago with its sponsored military coup in Kiev.
The only sad aftermath: yet another failed nation.