First, a disclaimer to the title. I have no idea where that idiom first originated, but as it pertains to the insurance industry, the use of the term 'red headed stepchild' just seems 'spot on'. Most investors seem to find insurance stocks the least favorable because, let's face it, sometimes it's about the 'game', the 'pursuit', and the thrill of the chase. Insurance stocks….well….can be bland and boring to many, mostly because they are so stable as to be plodding plow horses of a stock, compared to the thoroughbred stocks with some 'kick' in them. But, for someone willing to overlook that, the undervalued stocks might provide a hidden nugget that many overlook. Here's why.
By their very definition, undervalued stocks are trading below the current value of similar stocks. Sometimes this can indicate a company that is in distress. Savvy investors will often scoop those undervalued stocks up, and if enough of those stocks can be obtained, gain a majority percentage of the company. The next logical step that most take is to liquidate the company at a higher price. It's much like 'flipping' a house, in that respect.
Consider that early on in his career, Warren Buffet (I will admit it here…I'm a fan girl) did exactly that..bought limping companies, stripped them, shrunk them, and sold them for a profit. Back then it was and easier task to accomplish, but now, with the advent of technology the market trades at a premium most times. Having said that, guess what….there is an unloved insurance company out there, just waiting to feel the love: Hartford Financial Service (HIG).
According to finance.google.com the reported market cap is 20.49 billion, but the Statutory surplus is listed at 22.3 billion, according to SNL. Statutory surplus is defined: "For an insurance company, the amount of extra money after all liabilities and assets have been properly calculated according to the accounting standards." (read more).  
So, what this means is that potentially an investor could purchase 22.3 billion of available capital for a mere 20.49 billion, which would effectively put that investor ahead. Hartford's estimated statutory surplus may even prove to be conservative, making it an even bigger bargain than the stock already appears to be.
This won't be anything new to those investors who watched the banking industry go through some of the same volatility during the season of the beloved bailout. The below chart shows the historical trends and comparisons between the Statutory and market cap from 2008 to the present.
Red line: market cap Blue line: Statutory Surplus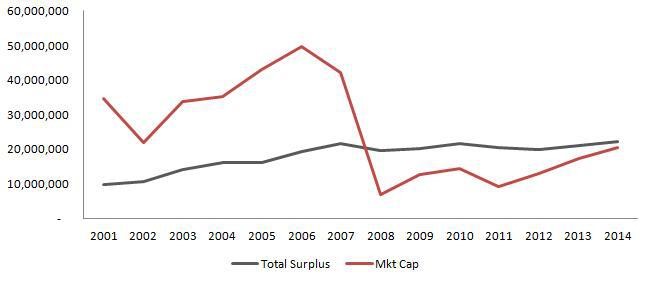 2008 was a great year for acquiring insurance companies because they were traded fast and furiously, and at significant discounts. Most insurance companies during that year were also doing whatever they could to meet the new regulatory requirements. Most of the heavy hitters, and who were responsible for most of the purchasing during that time were the private equity funds, but now, many of the insurance carriers are moving back into the M&A, which is where they wanted to be all along. This also means the good deals won't last long. Rumors on Reuters show that HIG may be courting such heavy hitters such as Berkshire Hathaway, AXA, and Travelers, to name a few. Investing now, before HIG starts getting a lot of attention might be the investor's best bet. It will be interesting to see if the market cap will go back to the pre-crisis level above the surplus (which was around 30% over). If it does that, then it won't be the unloved stepchild anymore.