Summary
The commodity play is now much cheaper.
But is FCX now too much of a macro bet?
Copper is the driving story here.
Still kicking around at multi-year lows, Freeport McMoRan (NYSE:FCX) has been an enticing commodity bet. I've noted in the past that I'd be interested in owning FCX around $10 a share. Shares have fallen 15% in the last month and shares "should" look fairly enticing. But I've also noted that China will be driving this story and it looks as if the news coming out of China might be a bit concerning for potential FCX bulls like myself.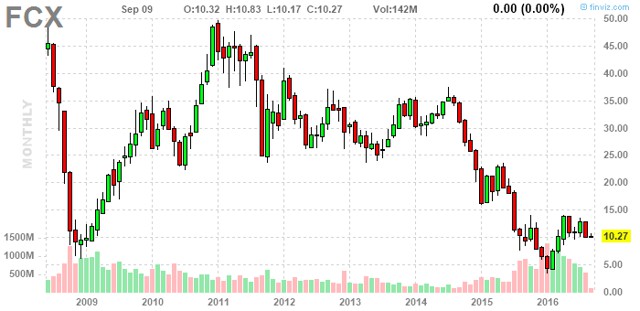 So despite the multi-year stock price shown above, Freeport is very much a macro bet. A bet that the news coming out of China is either over exaggerated or true. But it's looking more like the latter might be coming to fruition.
As I've noted, FCX isn't as much of a oil bet as the media would have you believe. Rather, it's a copper play, which accounts for well over the majority of its revenues. The issue is, copper demand is waning. FCX remains one of the largest producers of copper in the world, and...
More