XAU/USD (Gold) has been sliding throughout the week. The market is trading up the USD after the FOMC statement put traders on rate hike expectations for 2015.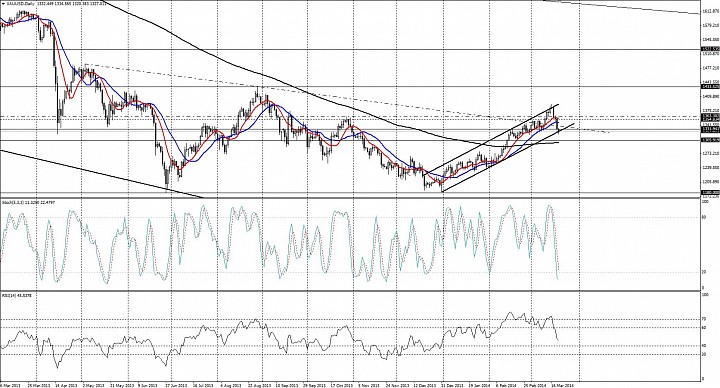 (Gold Daily Chart 3/20)
The daily chart shows a strong slide that has now brought gold price to 2014's rising channel. A break below the channel can open up further bearish outlook in the coming weeks and maybe months. 
However, failure to clear below 1330, and a return above 1355 would reflect an intact 2014 bull run. The market has broken 1330, but it is not a convincing one so far.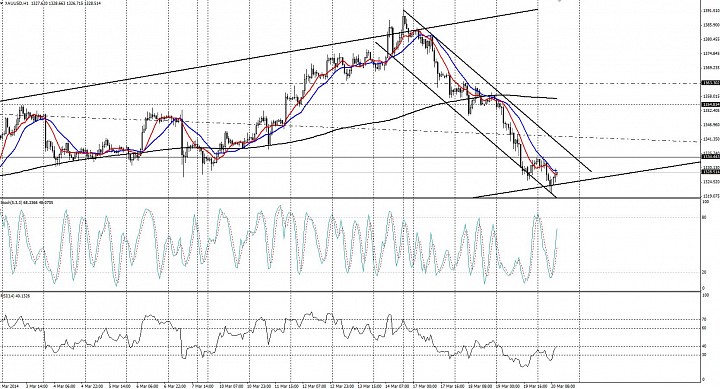 (gold 1H Chart)
In the near-term the 1H chart shows a market stalling in the 3/20 US session on that the channels support from the daily chart, as well as a projected one in the 1H chart. Note the market resolving the bullish divergence. This means there is some consolidation, but does not also lead to a reversal.
A break of at least 1335 and the channel resistance could open up a challenge of the 1355 pivot. However, once the 1H stochastic goes to 80 and the 1H RSI goes to 60, look for a possible revival attempt of this week's bearish mode.