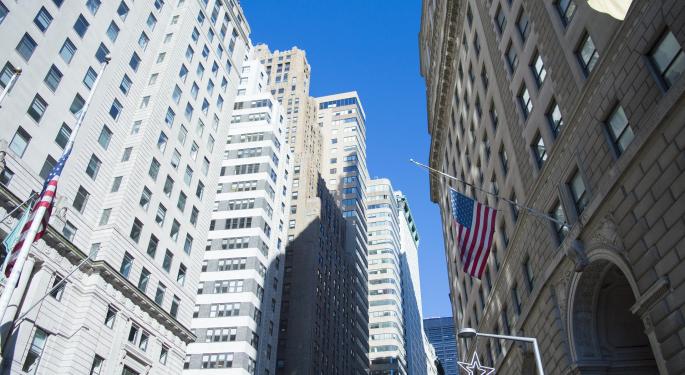 Below is a tool used by the Benzinga News Desk each trading day -- it's a look at everything happening in the market, in five minutes. Apply for daily AM access by clicking here or email minutes@benzinga.com.
Macro Focus
U.S. stock futures traded slightly lower in early pre-market trade. Futures for the Dow Jones Industrial Average dropped 7 points to 18,373.00, while the Standard & Poor's 500 index futures fell 0.50 points to 2,168.00. Futures for the Nasdaq 100 index declined 1.25 points to 4,784.50.
Oil prices traded lower as Brent crude futures declined 1.54 percent to trade at $49.15 per barrel, while US WTI crude futures also fell 1.47 percent to trade at $46.94 a barrel.
Data on personal income and consumer spending for July will be released at 8:30 a.m. ET.
The Dallas Fed manufacturing index for August is schedule for release at 10:30 a.m. ET.
The Treasury is set to auction 3-month bills at 11:30 a.m. ET.
The Treasury will also auction 6-month bills at 11:30 a.m. ET.
BZ News Desk Focus
The parade of quarterly results from big retailers is winding down, and along with it, the current earnings reporting season. But two more notable retailers take their turns in the earnings spotlight this week, and the consensus forecasts for Abercrombie & Fitch ANF 2.43% and Lululemon LULU 0.74% are starkly different.
Wall Street's consensus forecast calls for Abercrombie, retailer of upscale casual wear for young consumers, to have swung from last year's $0.12 in EPS to a net loss of $0.20 per share. The consensus of 20 Estimize respondents calls for -$0.22 per share for the fiscal second quarter that ended in July. Note that both Wall Street and Estimize overestimated EPS results in the prior quarter.
Carl Icahn issued a statement Friday afternoon about his stake in Herbalife HLF 2.89%. Icahn refuted Bill Ackman's earlier claims that he would sell, and announced he'd purchased 2.3 million additional shares of stock. Benzinga Professional broke news of an impending announcement seven minutes ahead of the release.
Sell-Side Themes
Several analysts weighed in on Janet Yellen's Jackson Hole speech, with the Street mixed on when the next rate hike will come.
Sell-Side's Most Noteworthy Themes
Deal Talk
Hedge fund manager D.E. Shaw is weighing a bid for SunEdison's SUNEQ 4.79% controlling stake in TerraForm Power TERP 5%, the bankrupt U.S. renewable energy producer's most valuable asset, people familiar with the matter told Reuters. D.E. Shaw's emergence as a possible bidder for TerraForm Power indicates that the potential sale process for the so-called "Class B" shares of TerraForm Power, which was formed by SunEdison to buy and operate its solar and wind power plants, is likely to be competitive.
An earlier story by Recode noted that Buzzfeed, where Viacom VIAB 0.32% board member Ken Lerer is executive chairman, might make a great investment for Viacom, struggling to make its mark with millennials. Interim CEO Tom Dooley is hoping to save his career by bringing the Viacom board some radical investment ideas. On the Money tipsters told New York Post to keep an eye out for a possible tie-up between Viacom and Buzzfeed, which last week said it would separate its news and entertainment divisions.
In The News
If the Japanese currency's recent tumble is to continue, it will have to come with a big change of heart among major investors, including many hedge funds that have bet on a rising yen in recent months.
Donald Trump's unpopularity with voters in affluent, suburban areas has jeopardized several House Republican incumbents, opening the chance for Democrats to win in conservative districts. Trump is so disliked among college-educated voters that he is at risk of losing by double digits in several districts that Mitt Romney carried comfortably in 2012.
Blogosphere
To outsiders, Wall Street is a manic, dangerous and ridiculous republic unto itself – a sort of bizarro world where nothing adds up and common sense is virtually inapplicable. Consider these 10 insane things that we believe on Wall Street, that make no sense whatsoever in the real world.
Trending
CRM SLV DGAZ EGLE LULU LPG MU SQ UUP TMUS ANF NE KLAC UTX XLU CZR MYL STO BNS
#VMAs The 2016 MTV Video Music Awards were free of controversy and full of powerful performances, from Beyoncé's surprise stage recreation of "Lemonade," to Britney Spears' big comeback.

© 2016 Benzinga.com. Benzinga does not provide investment advice. All rights reserved.
Source