We are entering the heart of the second-quarter reporting cycle and 97 S&P 500 members, representing 28.1% of the index's total market capitalization, have already reported their results (as of Friday, Jul 21).
Total earnings of these companies are up 8.4% on a year-over-year basis (78.4% of the companies beat EPS estimates) while total revenue is up 5.1% on a year-over-year basis (72.2% of the companies also beat top-line estimates).
Overall, second-quarter earnings for S&P 500 companies are anticipated to be up 8.6% from the year-ago quarter on revenues that are estimated to increase 4.7%. This compares with 13.3% growth in first-quarter earnings on 7% higher revenues.
Technology Earnings Expectations
Technology is one of the three sectors contributing significantly to second-quarter earnings. The other two are Finance and Energy.
We note that the technology sector has been a strong performer on a year-to-date basis. The sector is benefiting from increasing demand for cloud-based platforms, growing adoption of Artificial Intelligence (AI) solutions, Augmented/Virtual reality devices, autonomous cars, advanced driver assisted systems (ADAS) and Internet of Things (IoT) related software. Earnings for the technology sector are anticipated to be up 10.1%.
A couple of semiconductor companies are slated to report second-quarter 2017 earnings on Jul 25. The industry serves as a driver, enabler and indicator of technological progress. So, let's take a sneak peek into how Texas Instruments Incorporated TXN and Advanced Micro Devices, Inc. AMD are placed ahead of their releases.
Texas Instruments is unlikely to beat expectations as it has an unfavorable combination of a Zacks Rank #3 (Hold) and an Earnings ESP of 0.00%. You can uncover the best stocks to buy or sell before they're reported with our Earnings ESP Filter.
This is because, as per our proven model, a company needs to have both a positive Earnings ESP and a Zacks Rank #1 (Strong Buy), 2 (Buy) or 3 to deliver an earnings surprise. You can see the complete list of today's Zacks #1 Rank stocks here.
We caution against stocks with a Zacks Rank #4 or 5 (Sell rated) going into an earnings announcement, especially when the company is seeing negative estimate revisions.
However, we note that Texas Instruments beat the Zacks Consensus Estimate in the trailing four quarters, resulting in an average positive surprise of 7.68%.
We believe the company's strength in auto and industrial markets will play an important role. Compelling product line, the differentiation in its business, investments in high margin areas, and lower-cost 300mm Analog outputare other positives.
It, along with chipmaker Intel INTC, remains one of the few semiconductor companies that depend on internal capacity for manufacturing the bulk of its devices.(Read More: What's in Store for Texas Instruments in Q2 Earnings?)
Texas Instruments has outperformed the S&P 500 on a year-to-date basis. While the stock returned almost 12%, the index gained 10.7% over the same time frame.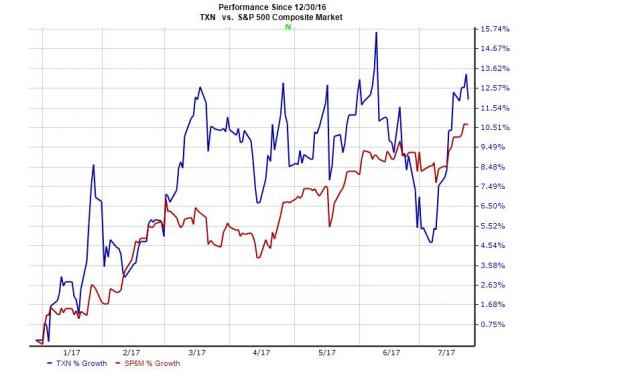 Similarly, Advanced Micro Devices is unlikely to beat estimates as it has an Earnings ESP of 0.00% and a Zacks Rank #3.
Notably, the company has beaten the Zacks Consensus Estimate in two of the preceding four quarters and matched the same on the other two occasions. It delivered an average four-quarter positive surprise of 34.09%.
We believe strong demand for GPU cards, expanding product portfolio (Ryzen Pro, Vega accelerator, EPYC server processor, Ryzen desktop processor) and AMD's improving position in key markets like virtual reality (VR) and augmented reality (AR), gaming and parallel processing are positives. (Read More: Can Advanced Micro Pull an Earnings Surprise in Q2?)
Advanced Micro stock has gained 22.4% year to date, underperforming the 30.1% rally of the industry it belongs to. The underperformance reflects stiff competition from NVIDIA NVDA in the GPU space and Intel in the consumer PC market.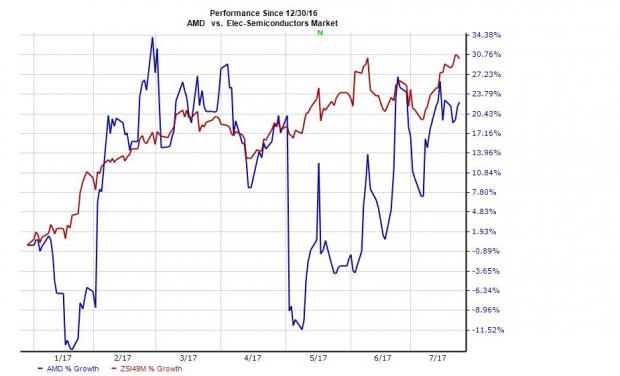 More Stock News: This Is Bigger than the iPhone!
It could become the mother of all technological revolutions. Apple sold a mere 1 billion iPhones in 10 years but a new breakthrough is expected to generate more than 27 billion devices in just 3 years, creating a $1.7 trillion market.
Zacks has just released a Special Report that spotlights this fast-emerging phenomenon and 6 tickers for taking advantage of it. If you don't buy now, you may kick yourself in 2020. Click here for the 6 trades >>
Want the latest recommendations from Zacks Investment Research? Today, you can download 7 Best Stocks for the Next 30 Days.
Click to get this free report
Advanced Micro Devices, Inc. (AMD): Free Stock Analysis Report
Intel Corporation (INTC): Free Stock Analysis Report
Texas Instruments Incorporated (TXN): Free Stock Analysis Report
NVIDIA Corporation (NVDA): Free Stock Analysis Report
To read this article on Zacks.com click here.