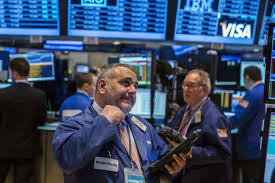 Corporate earnings for the first quarter are probably going to stink.
That's one of the main reasons why stocks have been on a losing side lately. Thursday is shaping up to be the fourth straight day of declines.
According to the Research by FactSet :
" Profits for the S& P 500 companies will be down 4.6% from the first quarter of 2014. This would be the first time profits have fallen since the third quarter of 2012."
No wonder the market is jittery. Can the stock market really support keep climbing if earnings aren't strong?
On top of that, more people are warning about high valuations for tech and biotech stocks in the (NASDAQ:NASDAQ). Mixed signals are also coming out about the health of the U.S. economy.
Last day we saw the huge rise in KRFT shares due to merging news and a huge fall on Biotech stocks which takes more weight-age on taking the market in negative scale.
Another parameter that is impacting on the market is the price of Oil and Strong Dollar effect. i.e Week Oil + Strong Dollar == Pulling the market down.
Comments by the readers on BCC News:
"Why are stocks going down bad news? The only people it is bad for are those who have no choice but to sell the stocks that dropped. For the majority of people, lower stock prices give us an opportunity to buy low."