Summary
We look for stocks that demonstrate growth at a reasonable price with potential for ongoing cash flow growth and ROIC expansion.
In this report, we highlight 26 long stock ideas and 23 short ideas.
We track have tracked in real time since April 2009 different variations of our long and short theoretical models, including a "dollar neutral" hedged model.
One version of our theoretical long model is to remain 100% in cash through just prior to the close on September 21.
In our opinion, investors would be best suited remaining in a hedged position for the balance of September.
In this report we highlight stocks that demonstrate solid growth at a reasonable price (GARP) and provide an update of last month's report. For older reports you can visit this link.
Stocks selected for our model portfolio strategies all rank highly for the following metrics, with an emphasis on proxies for cash flow growth and ROIC:
Relative Value
Operating Momentum
Consensus Estimate Revision Momentum
Fundamental Quality
(click to enlarge)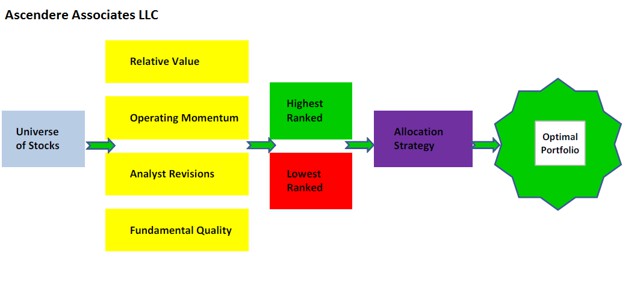 For determining Relative Value rankings, we look at various multiple ratios such as Enterprise Value/EBITDA and rank their attractiveness relative to other stocks in the same sector.
Operating Momentum refers to the level of positive change that a company can generate profit for a given level of capital investment. In other words, we rank proxies of cash flow and ROIC relative to other stocks in the same sector, inspired by McKinsey & Company's "Valuation: Measuring and Managing the Value of Companies (Wiley Finance)" and a similar book from a team of professors, "The Value Sphere: The Corporate Executives Handbook for Creating and Retaining Shareholder Wealth."
Consensus Estimate Revision Momentum refers to ranking the rate of change in consensus estimates. The use of this metric was inspired by a 1997 Harvard Business School case study, Numeric Investors L.P., which in turn may have been inspired by the independent research firms Zacks Investment Research.
Fundamental Quality refers to ranking various ratios that may be considered proxies for quality such as the difference between changes in Accounts Receivables and Accounts payables to Operating Assets, inspired by our study of, "Financial Shenanigans", a book that was part of a Babson MBA and also a CFA curriculum. The resulting screen creates a basket of stocks that we rebalance every month.
Very often we find many of these stocks work well as long-term ideas too. When we find an idea we like as a long-term potential holding, we conduct an in depth analysis with a focus on adjusted present value discounted cash flow valuation that is part of an outstanding MBA valuation course that is still taught by Professor Kathleen Hevert at Babson College. Our recent report on NuVasive (NASDAQ:NUVA) contains number of a good example of the ROIC models and APV DCF models we use for deeper analysis. Below is an illustration of our theoretical model portfolio strategy.
26 Long Stock Ideas for September 2015
New Long Ideas
Sony Corporation (NYSE:SNE)
O'Reilly Automotive Inc. (NASDAQ:ORLY)
Omnicom Group Inc. (NYSE:OMC)
MGIC Investment Corp. (NYSE:MTG)
Integrated Device Technology, Inc. (NASDAQ:IDTI)
Visa Inc. (NYSE:V)
NVIDIA Corporation (NASDAQ:NVDA)
"Rebalanced" Long Ideas
The Interpublic Group of...
More