(Economiccalendar.com 9/13) UK inflation grew less than expected in August, according the Office of Statistics. The UK Consumer Price Index registered 0.6% on a year-over-year basis, the same as the July growth rate and below the 0.7% analyst were expecting, according to a poll by Thomson Reuters.
Stripping out volatile prices inputs such as food and energy, the 'core' reading showed growth of 1.3% from a year earlier. This is the same as the reading in June and slightly lower than analyst expectations of 1.4%.
For the month of August CPI rose 0.3%, an improvement from the 0.1% decline experienced the month before, but lower than the 0.4% analyst were looking for. (more on Economiccalendar.com)
Usually, low inflation is a drag on the currency, and it is the case with the British Pound (GBP) today.

GBP/USD 1H Chart 9/13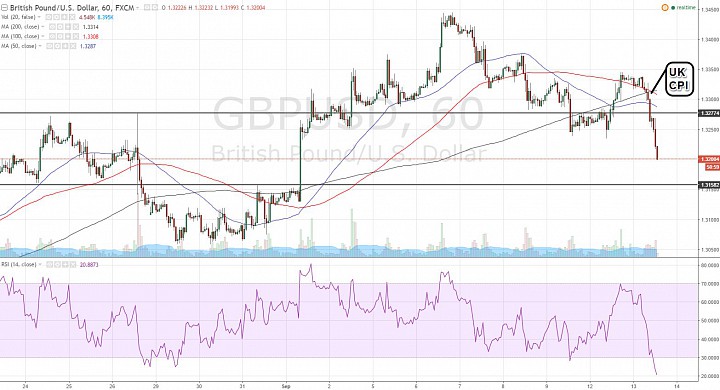 (click to enlarge)

GBP/USD already topping:
- As we can see in the 1H chart, GBP/USD was already topping after failing to reach 1.3450.
- Price consolidated a bit ahead of the inflation data, but fell sharply after the release.
Targets:
- The first key level to monitor will be the 1.3150-1.3160 support/resistance pivot area. 
- Below 1.3150, we should monitor the 1.3060 lows.
- 1.30 might be a key level. It would show up as support if GBP/USD is anchoring a price bottom.
- Now, I would not rely on this possible bullish outlook, since the prevailing trend has been bearish even before Brexit. 
- A break above 1.35 would be needed to convince me that GBP/USD is bottoming. 
- Otherwise, I think 1.30 is vulnerable outside of some near-term, short-term buying. 
- In the medium-term, GBP/USD has the 1.28-1.2850 consolidation support area in sight.