BNN Appearance Yesterday by Don Vialoux on Berman's Call
Following are notes used during the show:
Opening Segment
Early signs of a seasonal peak in North American equity markets have arrived. The S&P 500 Index, Dow Jones Transportation Average and TSX Composite Index on average during the past 20 years have reached their seasonal peak on July 17th followed by at least a shallow correction lasting until mid-October. Last week, the TSX Index was virtually unchanged, the S&P 500 Index gained 0.54% (but weakened on Thursday and Friday), the Dow Jones Industrial Average lost 0.27% and the Dow Jones Transportation Average plunged 2.79%. However, volatility associated with the summer correction is not there yet. The VIX Index reached a multi-year low on Friday. Full force of the summer correction has yet to arrive. Political events (most notably in the U.S.) could change the timing quickly. Possibilities this summer include a show down with North Korea, failure by the U.S. Congress to pass meaningful legislation on health care and tax reform, disruptive news from the investigation on Russia's interference in the U.S. election, an unexpected increase in the Fed Fund Rate and disruptive trade negotiations leading to threat of a trade war. A spike in volatility above levels reached three weeks ago will be the most likely sign that the summer correction is in full force. Meanwhile, holding a robust position in cash in your investment portfolio makes sense.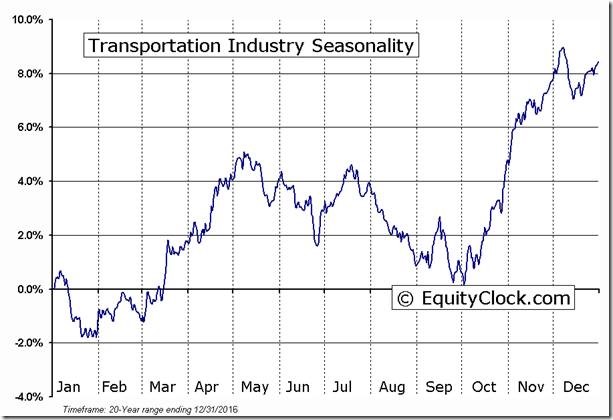 Many S&P 500 stocks came under profit taking pressure last week shortly after reporting strong second quarter earnings. Another 191 S&P 500 companies are scheduled to release second quarter results this week. Stay tuned for more "Sell on news" technical action
Gold and gold equity indices were the star performers last week. Gold added 2.23% and the Gold Bug Index gained 3.33%. As noted on the show last Monday, gold and gold equities have just entered their period of seasonal strength from the third week in July to the end of September. Additional gains are anticipated if the VIX Index moves significantly higher.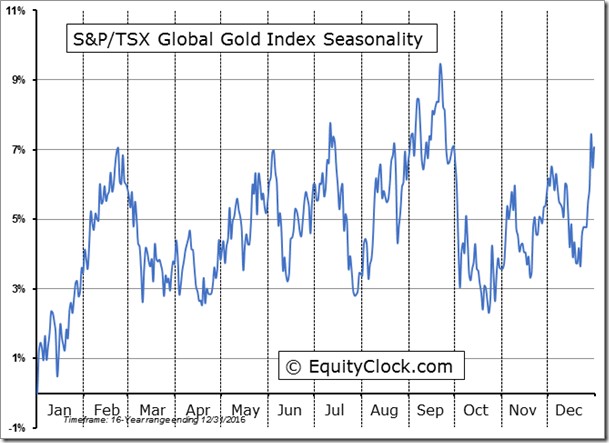 Education section
Second quarter earnings reports by Canada's largest companies could be a pleasant surprise. A few reports already have been released, but the flow of reports will escalate significantly this week. Second quarter consensus earnings per share estimates show an average (median) increase on a year-over-year basis by TSX 60 companies of 11.3%: 47 companies are expected to report higher earnings and only eight companies are expected to report lower earnings. Companies expected to report the highest percentage gains include base metal companies such as Teck Resources, Brookfield Asset Management. Honorable mention can be given to energy companies that will move from a loss last year to a small profit this year.
Following is a link to the show:
http://www.bnn.ca/video/berman-s-call-for-monday-july-24-2017~1171104
Observations
Sell on news! After the close, Alphabet (GOOGL), one of the FANG stocks, reported higher than consensus second quarter earnings and revenues. The stock immediately dropped 3.2%.
Short term technical indicators (short term momentum indicators and above/below 20 day moving average) rolled over from overbought levels for a wide variety of equity markets, commodities and sectors yesterday. See changed indicated in red in the Trader's Corner section of this report.
European equities, indices and related ETFs also are showing short term technical weakness. The STOXX 600 Index broke support yesterday at 378.45 extending an intermediate downtrend.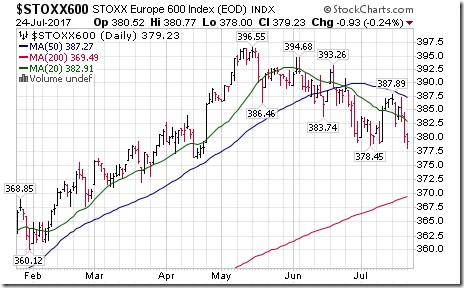 StockTwits Released Yesterday @EquityClock
Euro up. Stocks down as negative seasonal influences take hold. See http://www.equityclock.com/2017/07/21/stock-market-outlook-for-july-24-2017/
Technical action by S&P 500 Index to 2:00: Bearish. Breakouts: $LUK $GD. Breakdowns: $DRI $HAS $TJX $XOM $ITW $RHI $PPG $EVHS
Editor's Note: After 2.00 PM EDT, breakouts included AIG and NI. Breakdown included McDonald's MCD, a Dow Jones Industrial stock.(Double top pattern)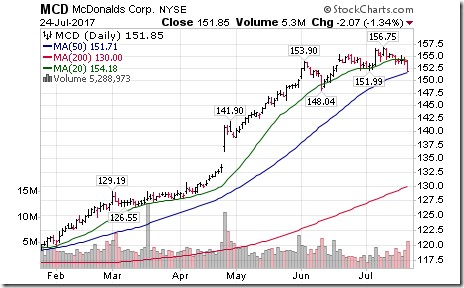 Dollarama $DOL.CA moved below $119.50 completing a Head & Shoulders pattern.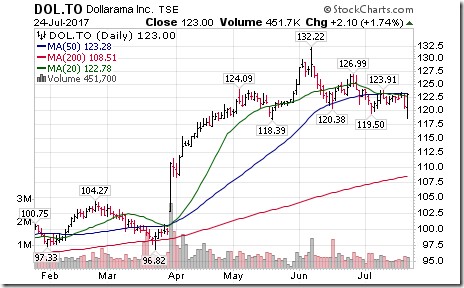 Cascasdes $CAS.CA moved below support at $16.10.
Hasbro $HAS: More selling on news.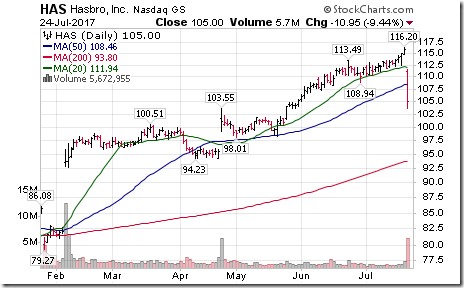 Illinois Tool Works: More sell on news.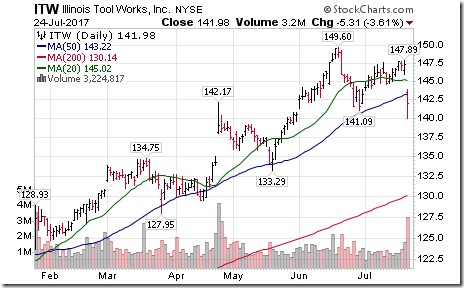 Selected Cdn. gold stocks break support prior to release of second quarter reports: $ABX.CA DGC.CA $IMG.CA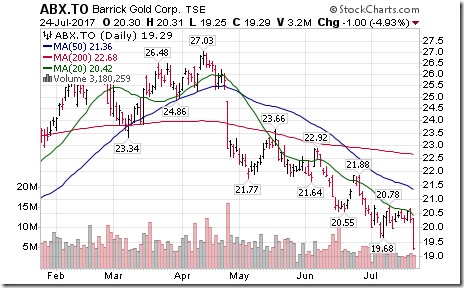 Sports good retailers breaking support: $DKS $UA $FL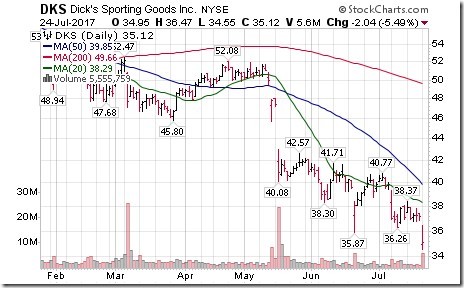 Trader's Corner
Daily Seasonal/Technical Equity Trends for July 24th 2017
Green: Increase from previous day
Red: Decrease from previous day
Daily Seasonal/Technical Commodities Trends for July 24th 2017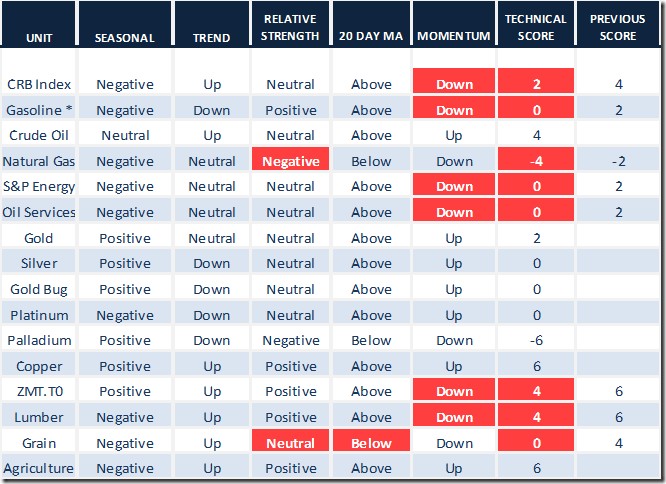 Green: Increase from previous day
Red: Decrease from previous day
* Excludes adjustment from rollover of futures contracts
Daily Seasonal/Technical Sector Trends for July 24th 2017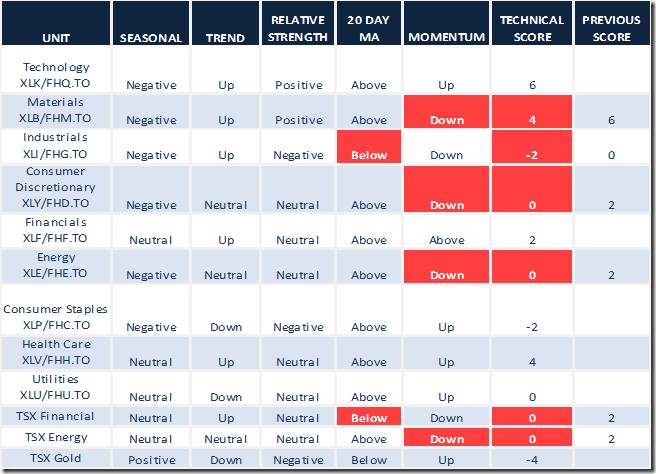 Green: Increase from previous day
Red: Decrease from previous day
S&P 500 Momentum Barometer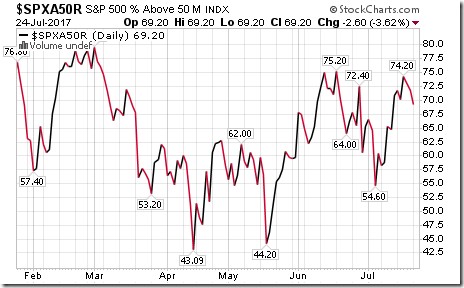 The Barometer dropped another 2.60 to 69.20 yesterday. It remains intermediate overbought and rolling over.
TSX Momentum Barometer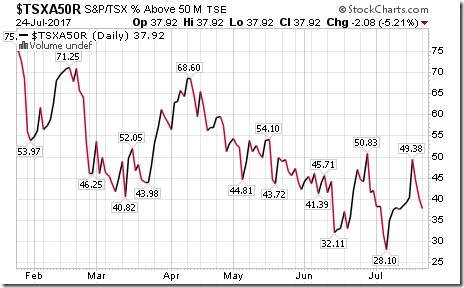 The Barometer dropped another 2.08 to 37.92 yesterday. It has returned to intermediate oversold, but has yet to show signs of bottoming.
Disclaimer: Seasonality and technical ratings offered in this report and www.equityclock.com are for information only. They should not be considered as advice to purchase or to sell mentioned securities. Data offered in this report is believed to be accurate, but is not guaranteed