Intercept Pharmaceuticals, Inc. ICPT reported encouraging results for third-quarter 2017. The company posted a loss of $2.89 per share in the third quarter, narrower than the Zacks Consensus Estimate of $3.55 and the year-ago loss of $3.59.
Intercept Pharmaceuticals, Inc. Price and EPS Surprise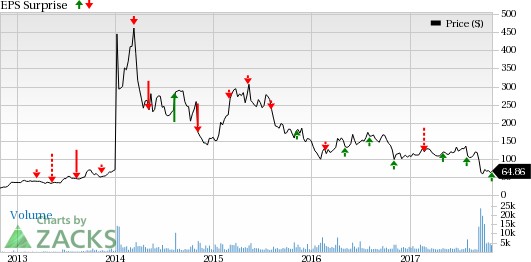 Intercept Pharmaceuticals, Inc. Price and EPS Surprise | Intercept Pharmaceuticals, Inc. Quote
Quarterly revenues were $41.3 million, up significantly from $5.1 million in the year-ago quarter and beat the Zacks Consensus Estimate of $35.9 million.
Intercept's stock has declined 43.7% year to date against the industry's loss of 1.4%. In particular, shares have plunged significantly over the last few days due to safety issues regarding the approved drug Ocaliva.

Quarter in Detail
Revenues from international markets were $4.7 million. In third-quarter 2017 Ocaliva recorded $40.9 million of sales, up from$30.4 million recorded in second-quarter 2017. Ocaliva was approved in the United States, in combination with ursodeoxycholic (UDCA) for the treatment of primary biliary cholangitis (PBC) in adults with an inadequate response to UDCA, or as monotherapy in adults who are unable to endure UDCA in 2016. The drug was also granted conditional approval by the European Commission.
Sales from the United States markets came in at $36.2 million, up from $27.9 million recorded in the second quarter as prescriptions continue to grow.
Research and development expenses increased 29.8% year over year to $45.9 million primarily driven by increases in clinical development programs for OCA and infrastructure to support such programs.
Selling, general and administrative expenses increased to $61.4 million, up from $52.8 million in the year-ago quarter driven by personnel-related costs to support commercial and international initiatives and an increase in indirect expenses.
2017 Outlook Reiterated
Intercept expects operating expenses to be in the middle of the earlier projected range of $380-$420 million in 2017. The company believes that continued commercialization of Ocaliva in PBC in the United States and other markets. In order to streamline operating expenses, Intercept has decided to deprioritize its INT-767 development program.
Pipeline Update
Ocaliva is being evaluated for other indications including non-alcoholic steatohepatitis (NASH) and primary sclerosing cholangitis (PSC).
The FDA has earlier approved a redesign of the phase III trial, REGENERATE on Ocaliva for the safety and efficacy in treating NASH patients with liver fibrosis. The company now needs to achieve only one co primary endpoint- either fibrosis improvement or NASH resolution as compared with the earlier target of achieving both. The sample size of the trial has also been reduced to approximately 750 patients or about 250 patients per arm. The company completed enrolment for the interim analysis cohort in the REGENERATE trial (data readout in the first half of 2019).
The company also plans to initiate a phase III trial on Ocaliva in NASH patients with cirrhosis in the second half of 2017. Intercept announced trial results from two phase II trials — CONTROL (Combination OCA aNdsTatins for monitoRing Of Lipids) and AESOP for PSC. CONTROL study is being conducted to evaluate the effect of Ocaliva in combination with statin therapy on lipid metabolism in patients with NASH. Results from AESOP revealed that OCA met the primary endpoint of statistically significant reduction in alkaline phosphatase (ALP) while results from CONTROL showed that the company achieved its objective in demonstrating that the lowest available dose of atorvastatin rapidly reverses OCA associated LDL changes to below baseline levels in NASH patients with fibrosis or cirrhosis.
Our Take
Intercept's third-quarter results were encouraging as the company reported a narrower-than-expected loss and beat on revenues. However, prescription demand softened following the Dear Health Care Provider letter and the FDA safety communication on Ocaliva.
Recently, some deaths have been reported in PBC patients with moderate or severe hepatic impairment (Child Pugh B or C cirrhosis). The FDA reported 19 deaths due to Ocaliva and stated that the drug may also affect the liver. However, Intercept conducted an analysis and concluded that these patients were prescribed once daily doses of Ocaliva, which is seven times higher than the recommended weekly dose. The analysis was conducted in consultation with the FDA. The company concluded that deaths occurred due to overdosing. Consequently, Intercept issued the Dear Healthcare Provider letter. Thereafter, the FDA issued their own safety communication to reinforce recommended label dosing. Intercept is also working with the FDA on further updates to Ocaliva's label for safety purposes.
Nevertheless, such side-effects will limit the sales potential going forward. On the other hand, NASH market has huge potential and a tentative approval will boost Ocaliva's prospects. However, bigwigs like Novartis AG NVS and Gilead Sciences, Inc. GILD have FXR agonists in phase II or earlier stages of clinical or preclinical development that can be used to treat PBC, NASH and the other liver diseases.
Zacks Rank & Key Pick
Intercept currently carries a Zacks Rank #3 (Hold).
A better-ranked stock in the healthcare sector is Exelixis, Inc. EXEL which currently carries a Zacks Rank #2 (Buy). You can see the complete list of today's Zacks #1 Rank stocks (Strong Buy) here.
Exelixis reported strong results for the third quarter. Earnings per share estimates inched up to 64 cents from 63 cents for 2018, over the last 60 days. The company has delivered positive earnings surprises in the trailing four quarters with an average beat of 572.9%.
Zacks' Best Private Investment Ideas

While we are happy to share many articles like this on the website, our best recommendations and most in-depth research are not available to the public.

Starting today, for the next month, you can follow all Zacks' private buys and sells in real time. Our experts cover all kinds of trades… from value to momentum . . . from stocks under $10 to ETF and option moves . . . from stocks that corporate insiders are buying up to companies that are about to report positive earnings surprises. You can even look inside exclusive portfolios that are normally closed to new investors.

Click here for Zacks' private trades >>
Want the latest recommendations from Zacks Investment Research? Today, you can download 7 Best Stocks for the Next 30 Days.
Click to get this free report
Novartis AG (NVS): Free Stock Analysis Report
Gilead Sciences, Inc. (GILD): Free Stock Analysis Report
Exelixis, Inc. (EXEL): Free Stock Analysis Report
Intercept Pharmaceuticals, Inc. (ICPT): Free Stock Analysis Report
To read this article on Zacks.com click here.
Zacks Investment Research