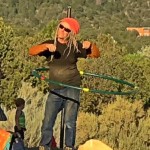 What's wrong with this picture?
In 90-degree heat, a grown man wears dark colors, long sleeves, jeans and hiking boots.
His bulging belly, which should defy holding up a hula hoop, keeps it circling regardless. He appears serene in his own, might I say alternate world.
After Tuesday's crash and Wednesday's dash, Thursday tested the bull's bulging belly's ability to keep the hula circling.
Nasdaq and Semiconductors return to unconfirmed Warning Phases.
The money rotated into Financials and Regional Banks, both of which now confirmed a Bullish Phase.
Last night I wrote about the great feedback this week's action offers you and your trading strategies.
I shared with you that in our discretionary model, we lost two longs using breakeven sell stops.
I mentioned that our feedback comes in the way of planning sell stops in case the market tanks again.
To date, the other long positions (and one short) haven't stopped us out.
Yet the positions, profitable from original entries, lost mark to market.
Should we worry?
Or, should we emulate our happy hula man existing as die hard bulls serene in an alternate universe?
I also wrote last night about one of those positions we did not lose, the Brazil ETF or EWZ.
For consistency's sake, I report that we are still in it today. Although mark to...
More