With oil prices down another 6% this week (despite Saudi leadership uncertainty and ECB QE), widespread layoffs announced in Shale states, and despite Lew's comments that he doesn't see US oil production declining, it is perhaps no surprise that the US rig count cratered further to its lowest level since August 2010. The US rig count is now down over 15% from the highs, with its biggest 10-week drop since May 2009 (and down 8% YoY). The pace of collapse in the rig count has now accelerated for 7 weeks in a row, and judging by lagged oil prices, there is a lot more room to drop yet. The oil rig count standalone is now down 7% YoY - its biggest drop sicne Nov 2009. As T.Boone Pickens so rightly noted, watch the US rig count (and suggested it will need to drop 500 rigs or more before any stability returns).
*U.S. OIL RIG COUNT -49 TO 1,317, BAKER HUGHES SAYS
US HORIZONTAL DRILLING RIGS DOWN 24 AT 1,229 IN WEEK TO JANUARY 23 -- BAKER HUGHES
The rig count continues to collapse... as 4-month lagged oil prices lead the way - just as they did before...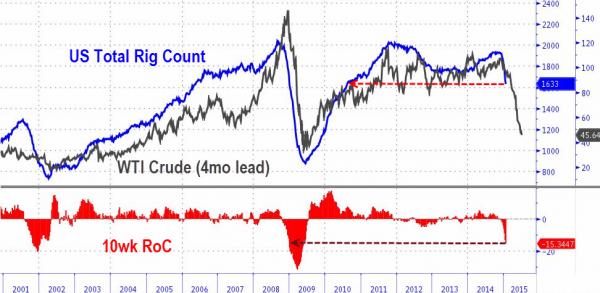 *ENERGY RIGS IN TEXAS'S EAGLE FORD FORMATION DOWN FOUR TO 181
*MISSISSIPPIAN LOSES FIVE RIGS TO 63: BAKER HUGHES
*ENERGY RIGS IN PERMIAN BASIN SLIDE BY 6 TO 481: BAKER HUGHES
*ENERGY RIGS IN WILLISTON BASIN FALL BY 12 TO 153: BAKER HUGHES
*ENERGY RIGS IN MARCELLUS FORMATION GAINS ONE TO 76
Notice that the rig count always undershoots before prices are able to reverse.
*  *  *
Not "unambiguosly good"!
Houston (and CO, ND, PA, WV) we have a problem...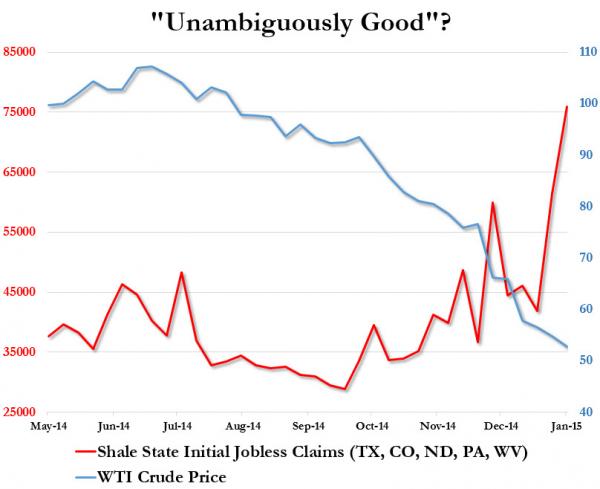 But don't worry - Treasury Secretary Lew says the oil companies can handle it...
*LEW SAYS U.S. CRUDE PRODUCERS CAN HANDLE DECLINE IN OIL PRICES
As credit risk hovers near record highs for the sector
Charts: Bloomberg