Growth-obsessed investors have always played a large role in the stock market, but these days it can feel as if they have become even more prominent. This is spurred by the importance of tech giants that grab most of the headlines for their rapid expansion and soaring stock prices.
Some of these companies, such as Tesla TSLA, even seem impervious to legitimate pullbacks based on hard financials and output fundamentals.
Firms that operate in the tech space and tout futuristic, world-changing concepts can, and often do, grow rapidly, and this is where the impetus to try to invest early in the next Amazon AMZN comes into play.
Utilizing this tactic can work and lead to outsized returns, but investing in established companies that operate in more stable and traditional industries can work just as well.
With all of this in mind, investors on the hunt for growth might choose to think with their guts, or at least their stomachs, and hone in on Restaurant Brands International Inc. QSR.
The owner of Popeyes, Tim Hortons, and Burger King is currently a Zacks Rank #2 (Buy). On top of that, Restaurant Brands sports an "A" grade for Momentum in our Style Scores system.
Although this positive momentum grade is not necessarily a direct reflection of the company's growth potential, our current Zacks Consensus Estimates also call for major earnings and revenue growth.
Fundamentals
Shares of the fast-food powerhouse have climbed almost 36% this year, which almost triples the S&P 500's average and looks even more outstanding compared to the "Retail Restaurants" industry's 7% decline.
Last week, Restaurant Brands reported strong third-quarter earnings that beat both top and bottom-line estimates. Restaurant Brands' Q3 earnings jumped nearly 35%, while its revenues popped 12.4% to $ 1.21 billion. Notably, Burger King's revenues rose 9.7% in the third-quarter (also read: Restaurant Brands (QSR) Q3 Earnings Beat on Higher Revenues).
This growth is expected to continue. Restaurant Brands is projected to see its revenues jump 14.12% in the fourth quarter to hit $1.27 billion, based on our current consensus estimates. What's more, the company's revenues are expected to grow nearly 11% for the full-year to reach $4.60 billion.
Restaurant Brands' bottom-line is also set to expand. The company's Q4 earnings are expected to soar over 31% to $0.58 per share. For the full-year, our consensus estimates are calling for EPS of $1.98, which would mark a 25% year-over-year jump.
Restaurant Brands International Inc. Price, Consensus and EPS Surprise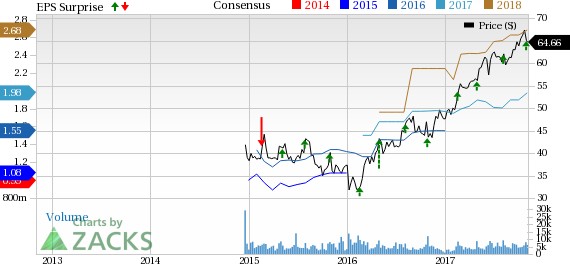 Restaurant Brands International Inc. Price, Consensus and EPS Surprise | Restaurant Brands International Inc. Quote
Investors might also feel relatively good knowing that within the last 60 days Restaurant Brands has received two upward earnings estimate revisions for its fourth-quarter. During this same time frame, the fast-food company has earned four positive full-year revisions.
Along with these positive earnings estimate revisions, growth investors should be excited by the fact that Restaurant Brands has beat earnings estimates for 11 straight quarters.
What's more, despite the company's strong 2017 and recent quarterly beats, shares of Restaurant Brandssit almost 3% below their 52-week high.
Zacks' Best Private Investment Ideas

While we are happy to share many articles like this on the website, our best recommendations and most in-depth research are not available to the public.

Starting today, and for the next month, you can follow all Zacks' private buys and sells in real time. Our experts cover all kinds of trades: value, momentum, ETFs, stocks under $10, stocks that corporate insiders are buying up, and companies that are about to report positive earnings surprises. You can even look inside portfolios so exclusive that they are normally closed to new investors. Click here for Zacks' private trades >>
Want the latest recommendations from Zacks Investment Research? Today, you can download 7 Best Stocks for the Next 30 Days.
Click to get this free report
Restaurant Brands International Inc. (QSR): Free Stock Analysis Report
Amazon.com, Inc. (AMZN): Free Stock Analysis Report
Tesla Inc. (TSLA): Free Stock Analysis Report
To read this article on Zacks.com click here.
Zacks Investment Research