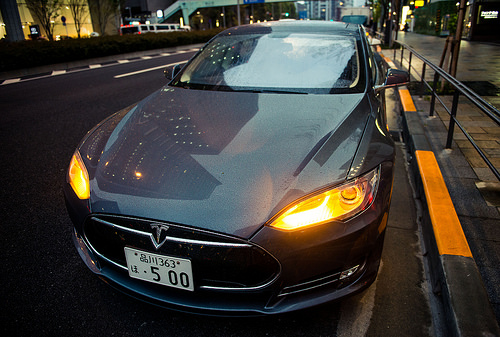 Electric carmaker Tesla (NASDAQ: TSLA) announced a new software update last week, according to The Street, which calmed some critics worried about battery life of the vehicle.
According to CEO of Tesla Elon Musk, version 6.2 of the Model S software will allow drivers to communicate with Tesla charging stations, as well as receive alerts well before the battery life is low, The Street reported. Musk also announced charging for the Model S will be available through "Superchargers" located at gas stations, restaurants, malls, etc.
According to Musk, it is "basically impossible to run out of range, unless you do so intentionally," The Street reported. 
The Model S retails for $65,000, The Street reported, however, the company plans to release another electric model by 2017 retailing between $35,000 and $40,000.
"Incorporating charging locations into a vehicle's navigation system and trip planning is an excellent feature, but it's also not new or innovative," Kelley Blue Book representative Karl Braur said, according to The Street.
The Street commenter Gregory Suhr said:
"I live in a north suburb of Indianapolis. Last weekend I went to a party in Ft. Wayne, the weekend before I went to one in South Bend. The new software updates do me no good because I know where the (1) Supercharger is along those routes...it's in South Bend...only a couple miles from my destination.
I probably could have made use of the one in South Bend...although it would have been just as easy to charge at my nephew's house. In Ft. Wayne...well...I'd be out of luck. I didn't see any provision for me to charge at the hotel we stayed at...and I don't think I could have made it up and back on a single charge.
That said, the real thing holding me back from a Model S is the price. The one I'd really like - the P85D - would cost me something like $125,000....which is just too much for me to justify...so I keep driving my gasoline powered car which I bought for nearly $100,000 less. I can but a lot of gasoline with that money."