Apple Inc.'s AAPL Chief Executive Officer (CEO) Tim Cook has been declared the highest-paid CEO in the U.S., per a Bloomberg's report of take-home pay for the top 25 S&P 500 CEOs released on Jun 29.
Take-home pay, commonly referred to as realized pay, is the total of the values of stock vested and options exercised during the fiscal year, along with cash from salaries, bonuses and perks.
Reportedly, take-home pay for the top 25 S&P 500 CEOs for last fiscal year totaled about $1.65 billion with CEOs in the technology, health care and media industries dominating the list.
Apple Inc. Price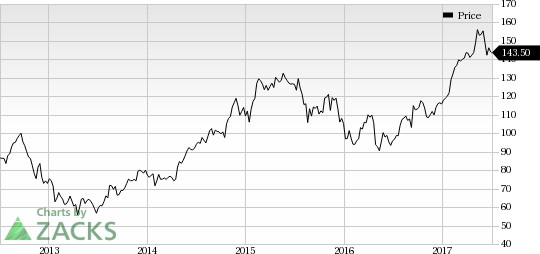 Cook made the most of any S&P 500 CEO for the year 2016, despite Apple's annual revenue declining 7.7% year over year, for the first time in fifteen years, falling from $233.7 billion in 2015 to $215.6 billion in the 2016 fiscal year.
Cook took home $145 million in 2016, primarily from vested stock of 1.26 million shares, valued at $136 million. Those shares were awarded when he took over as Apple's CEO from co-founder Steve Jobs in 2011.
Meanwhile, Cook was reported to have taken home a pay of $8.75 million in salary and cash awards last year, which ranked him as bottom third of all CEOs in the S&P 500 companies. Notably, this was below his reported pay of $10.3 million in 2015. Cook's net worth stands at an estimated $785 million.
Netflix's NFLX Founder and CEO, Reed Hastings came in a distant second with $106 million as pay for last year. His pay also came almost entirely from exercised options that were granted as early as 2006. According to the report, Netflix shares have surged more than 3,000 percent in the last 10 years.
The remaining CEOs in the top five include John Hammergren of McKesson MCK, while Leonard Schleifer, CEO of Regeneron Pharmaceuticals REGN was ranked fourth. Oracle's ORCL Safra Catz finished fifth on the list with $85.92 million as realized pay.
Zacks Rank & Share Price Movement
At present, Apple has a Zacks Rank #3 (Hold). You can see the complete list of today's Zacks #1 Rank (Strong Buy) stocks here.
In the past one year, shares of Apple have registered growth of 50.2% compared with the Zacks Computer - Mini Computers industry's gain of 49.4%.

Today's Stocks from Zacks' Hottest Strategies
It's hard to believe, even for us at Zacks. But while the market gained +18.8% from 2016 - Q1 2017, our top stock-picking screens have returned +157.0%, +128.0%, +97.8%, +94.7%, and +90.2% respectively.
And this outperformance has not just been a recent phenomenon. Over the years it has been remarkably consistent. From 2000 - Q1 2017, the composite yearly average gain for these strategies has beaten the market more than 11X over. Maybe even more remarkable is the fact that we're willing to share their latest stocks with you without cost or obligation. See Them Free>>
Want the latest recommendations from Zacks Investment Research? Today, you can download 7 Best Stocks for the Next 30 Days.
Click to get this free report
Netflix, Inc. (NFLX): Free Stock Analysis Report
Apple Inc. (AAPL): Free Stock Analysis Report
Oracle Corporation (ORCL): Free Stock Analysis Report
Regeneron Pharmaceuticals, Inc. (REGN): Free Stock Analysis Report
McKesson Corporation (MCK): Free Stock Analysis Report
To read this article on Zacks.com click here.
Zacks Investment Research