Photographer: Eugene Hoshiko via AP Photo
A man scratches his head as he looks at an electronic stock board of a securities firm in Tokyo.
Japan Prime Minister Shinzo Abe is running out of short-term policy options to extend a rally that sent stocks to a six-year high, said Goldman Sachs Group Inc.
Investors have largely factored in more share-buying by the nation's $1.2 trillion Government Pension Investment Fund and further fiscal and monetary stimulus to counter the deepest economic contraction in five years, Kathy Matsui, chief Japan strategist at the brokerage, said in an interview in Tokyo on Sept. 19. Goldman Sachs cut Japanese equities to underweight for the next three months on Sept. 5, projecting the Topix index will slide 5.7 percent from yesterday's close in the period.
After a world-beating 51 percent rally in 2013, Japanese stocks plunged in the first quarter of this year before starting to recover, with the Topix (TPX) climbing 19 percent from an April 14 low. Matsui maintains an overweight recommendation for Japanese shares over the next 12 months, saying higher company profits will boost stocks. She turned bearish on the measure's short-term prospects just days before the index erased its 2014 loss.
"The room for significant positive surprises on the policy front is probably limited," Matsui said. "We all know GPIF will eventually make an asset-allocation announcement, and we know what direction that announcement will likely be, so the only thing that remains unclear is the magnitude."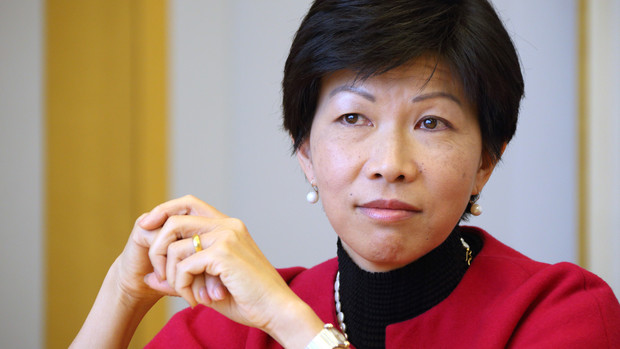 Matsui, who was Goldman Sachs' first female partner in Japan, has the ear of Abe for her work in promoting the doctrine known as "womenomics" that she coined in 1999. Abe has made her theories on upending gender roles and increasing female participation in the workforce a plank of his growth plan.
GPIF Optimism
The brokerage set three- and six-month Topix targets at 1,250 and 1,300 on Sept. 5, the same levels it projected in June. The measure advanced 1.5 percent to 1,346.43 in Tokyo today, the highest close since June 2008.
The Topix's rebound since April was fueled partly by speculation GPIF will buy more domestic stocks after the equity measure slumped 7.6 percent in the first three months of the year. GPIF must review its asset allocations quickly, Abe said last week.
Japan's currency has weakened as the U.S. economy shows signs of strengthening and the Federal Reserve presses forward with tightening of monetary policy. By contrast, investors see prospects for further stimulus in the world's third-largest economy as a sales-tax increase in April weighs on consumption and Abe considers raising the levy again next year. Gross domestic product slumped an annualized 7.1 percent in the three months through June, the biggest drop since the first quarter of 2009, the government said on Sept. 8.
Stimulus Outlook
Finance Minister Taro Aso said a back-up plan will be compiled to boost the economy if needed. TheBank of Japan would be prepared to increase easing as required following a higher levy, people familiar with the matter said. Matsui said there will probably be more stimulus if the government goes ahead with plans to raise the sales tax again.
"I'm not saying that the policies won't have any impact because they obviously will," Matsui said. "However, I believe the scope for significant positive surprises from policy announcements may be limited."
The brokerage maintained its 12-month outlook at overweight with a target level of 1,450, an increase of 9.3 percent from the measure's closing price yesterday. The Topix will resume its ascent as companies post positive earnings and raise their forecasts, Matsui said.
Companies on the Nikkei 225 Stock Average are assuming an exchange rate of 100.58 yen per dollar this fiscal year, according to data compiled by Bloomberg. The yen traded at 109.17 against the greenback as of 3 p.m. in Tokyo.
Earnings Surprises
"Corporate Japan remains very healthy," Matsui said. "We forecast that the half-year results released during late October-early November will produce positive earnings surprises, and we expect companies with conservative guidance will lift their forecasts."
Abe is also making progress on improving corporate governance and increasing female participation in the workforce, Matsui said. Those efforts may not lift the market immediately, she said.
Japan's premier appointed a record-matching five women as ministers in a cabinet reshuffle on Sept. 3, while naming Yasuhisa Shiozaki, a supporter of pro-market reforms, improved corporate governance and changes to public pensions, to oversee GPIF and the nation's labor rules.
Womenomics Benefits
"The recent female cabinet appointments send a positive signal to Japanese society and the world that change is long overdue and it's imperative for the government to lead the way," Matsui said.
Japan's GDP could swell by almost 13 percent and its workforce would increase by more than 7 million people if participation by women equaled that of men, analysts led by Matsui wrote in a womenomics report in May.
"Japan's labor force is rapidly shrinking, and managements are increasingly concerned about how to retain and grow their talent pools," she said. "Some managers also tell me that they have begun to see the economic benefits of having more diversity within their organizations."
The report listed 36 companies as womenomics winners in such industries as prepared-food supply, beauty products and childcare. Unicharm Corp., a maker of disposable diapers, has surged 21 percent this year through yesterday, and Pigeon Corp. (7956), which produces baby-care products, has gained 16 percent. The report says these companies will benefit from a correlation between higher female labor participation and higher birth rates.
Not all Matsui's picks are doing so well. Duskin Co. (4665), a provider of housekeeping services that would also be expected to gain if more women entered the workforce, has lost 6.6 percent.