The iShares Nasdaq Biotechnology (IBB) ETF performed fairly well last week, posting a gain of 3.2%. The best day was Wednesday, April 6, 2016 - the day Pfizer and Allergan called off their proposed $160 billion merger. "Pfizergan" was killed due to a new change in U.S. tax law designed to curve a flurry of recent of tax inversions, the process by which large U.S.-based corporations acquire smaller rivals and move offshore to reduce income taxes. In the case of Pfizer-Allergan, the plan was to re-incorporate in Ireland, a move that Pfizer CEO, Ian Read, estimated would save the combined company approximately $1 billion per year.
The breakout of the proposed merger created a wave of buying in the biotech sector as investors speculated where Pfizer and Allergan would turn their attention to now that the tax inversion strategy seems quashed (see Adam Feuerstein's article). And although the breakup fee to Allergan is only a measly $150 million, I think it will bring about a change in strategy for some of the world's largest players when it comes to future M&A.

Despite the impressive week for biotech stocks, the IBB is still down 20% year-to-date. The reasons are numerous, but political rhetoric stemming from the U.S. election and the potential for pricing pressure on expensive biopharma drugs seems at the center of investor angst in 2016. This issue will not be easily solved, but what I do find interesting is that it seems isolated to the pharmaceutical and biotechnology sectors. The iShares U.S. Medical Device (IHI) ETF is having a decent year, up 4% so far in 2016 and up 10% over the past six months. There are many biotech investors I know that would love to be up 10% since October 2015!
---
Med Tech Has Tangible Value
One reason the Med Tech sector may be outperforming is the lack of perceived pricing pressure on new medical devices compared to pharmaceutical products. Dramatic price increases on reformulated generic pharmaceutical ingredients and specialty pharmacies that bypass reimbursement hurdles are easy targets for politicians; however, I've have never heard a political candidate attack the price of an artificial knee, an implantable cardioverter defibrillator, or an electrophysiology recording system.
Perhaps it is because these devices have perceived tangible value. Standing in front of a medical device, it is easy to understand the complexity of what it took to develop the technology and why it is so expensive. That conception is far more difficult when you are holding a single tablet or capsule. The fact that major Med Tech names have largely escaped bombardment on the campaign trial is a significant reason for IHI outperformance compared to the IBB.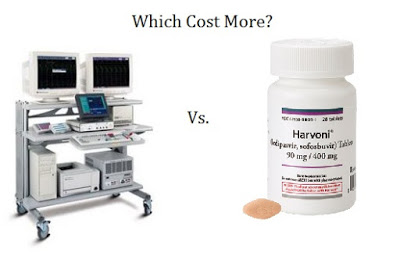 Med Tech Is Easier To Value
Another reason for IHI outperformance relative to the IBB may be valuation. There are an estimated 350 publicly traded biopharma companies. The IBB holds 189 stocks, the vast majority of which lose money each year. In fact, only about 20% of the companies in the IBB have positive trailing twelve months earnings. Only about 60% even have revenues! That makes it difficult for both professional and layman investors to value these names. There is an awful lot of speculation that goes on in valuing biotechnology stocks. As I've said in the past, it's more of a philosophy rather than a science.
Med Tech is a different animal. Roughly two-thirds of the 47 names in the IHI have positive trailing twelve month earnings, and every single one has revenues. This makes valuing Med Tech names based on traditional metrics such as Enterprise Value (EV) to EBITDA or EV to Revenues rather straightforward. In "good times" maybe investors are willing to speculate and absorb higher risk, perhaps even at valuations that do not make sense. When the bubble breaks and corrections set in, investors tend to turn to what they know. Large medical device players like Medtronic, Boston Scientific, St. Jude, J&J, and Abbott Labs trade at approximately 3.7x projected revenues and 13.6x projected EBITDA (see below). No journey into existential philosophy is required.

Lower Taxes on Med Tech
There may be a third reason why Med Tech is outperforming Biopharma. The Consolidated Appropriation Act (Pub. L 114-113) signed into law on December 18, 2015, provided a two-year moratorium on the medical device excise tax imposed by the IRS code section 4191. Medical device excise tax dates back to late 2012 and the final budget negotiations around funding the Affordable Care Act (ACA / Obamacare).
In December 2012, the IRS issued final regulations on the new 2.3% medical device excise tax that manufacturers and importers will pay on sales of certain medical devices beginning January 2013. The proposal was estimated to generate approximately $30 billion in funding for the ACA over the next ten years. The tax was not well received by the medical device industry and actually received bipartisan support to repeal throughout 2014 and 2015. Keep in mind, the excise tax was a tax on revenue, not on earnings, so it was rather punitive to small-cap or start-up medical device companies with breakeven operations.
The IHI rose by 5% the week the Consolidated Appropriation Act was signed into law. I think the two-year moratorium turns into a permanent moratorium after the election, especially if a Republican wins the White House. Nevertheless, eliminating the 2.3% excise tax is good for the medical device industry, especially the smaller players, and that is something the IHI has going for it that the IBB does not.
Spotlight Small-Cap Name To Watch - BioSig Technologies, Inc.
I think biopharma investors would benefit by owning a medical device name or two; it provides diversification and balance to the portfolio. However, since I tend to focus my research on underfollowed small-cap ideas, this article is not going to recommend names like Medtronic, St. Jude, or Boston Scientific. Instead, a name I think investors should look at is BioSig Technologies, Inc. (BSGM).
BioSig is a Minnesota-based medical device company developing a proprietary technology platform designed to improve the rapidly growing multi-billion dollar electrophysiology (EP) marketplace. The company's leading product is Pure EP™, a surface electrocardiogram (EKG) and intracardiac multichannel recording and analysis system designed to assist electrophysiologists during catheter ablation procedures to treat cardiac arrhythmia.
An electrophysiology study (EPS) is a diagnostic procedure performed by a specialized cardiologist, called an electrophysiologist, with the intent to help understand the nature of an abnormal heart rhythm. An EPS takes place in an electrophysiology or catheterization (cath) lab, usually under mild sedation. The procedure can last several hours, during which time an immense amount of information is recorded and analyzed. The primary diagnostic output during an electrophysiology study is an electrogram or intracardiac signal. This cardiac mapping allows the electrophysiologist to locate where arrhythmias are coming from within the heart or aorta.
Atrial fibrillation (AF) is the most common form of arrhythmia. The rapid, abnormal firing of electrical impulses causes the atria to quiver or beat in a chaotic (irregular) fashion which causes the ventricles to pump the blood ineffectively throughout the body. According to the American Heart Association (AHA), an estimated 2.7 million Americans are living with AF. Untreated AF doubles the risk of cardiovascular-related death and causes a 4-5-fold increase in the risk of stroke (source: AHA). According to the U.S. Center for Disease Control and Prevention (CDC), more than 750,000 hospitalizations and 130,000 deaths occur each year in the U.S. because of AF. AF is the underlying cause for 15-20% of ischemic strokes and costs the U.S. an estimated $6 billion in direct medical expense each year.
The primary treatment options for AF include procedures designed to control the heart's rhythm and rate, medications to reduce the workload of the heart, and/or medications to prevent the formation of clots to reduce the risk of stroke. For many patients, pharmaceutical options are not sufficient to control the arrhythmia. In these patients, pacemakers or cardiac defibrillators may be surgically implanted to provide low-energy pulses to the heart to restore rhythm and monitor the heart to prevent sudden cardiac arrest. In the U.S., over 225,000 pacemakers and 135,000 cardiac defibrillators are implanted each year.
However, medications or cardioversion to control atrial fibrillation is not always effective. In these cases, a cardiologist may perform a procedure to ablate the area of heart tissue that's causing the erratic electrical signals in an effort to restore the heart to a normal rhythm. This is done by the use of specialized catheters that deliver radiofrequency energy, extreme cold (cryotherapy), or heat to ablate small areas of the heart, either by isolating or destroying the tissue causing the asynchronous signal. This corrects the arrhythmia without the need for medications or implantable devices. However, determining the exact tissue to isolate that is causing the erratic electrical signals is paramount to a successful catheter ablation procedure, hence the importance of the cardiac mapping and real-time information noted above during the electrophysiology study.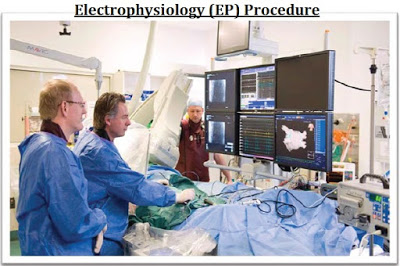 A cardiac mapping system with low fidelity or high signal-to-noise ratio can result in incomplete ablation of the target area, which results in recurring arrhythmia and the potential for a repeat procedure at some point in the future. A poor signal quality might also lead to longer procedure time, adding cost to the hospital and potential detrimental adverse effects on the patient. For example, recent data published in the Journal of the American Medical Association (JAMA) found that radiofrequency catheter ablation procedures had a success rate of only 46% on the first try. In fact, 47% of the study population had symptomatic recurrences of atrial tachyarrhythmia and declining quality of life measures within two years of the procedure (Morillo et al., 2014). The website www.stopafib.org reports success rates for catheter ablation procedures, usually in concert with anti-arrhythmia medications, ranges between 30 and 60% after a single procedure.
BioSig - Cutting Out The Noise
High-quality information provided by the recording system is essential for an electrophysiologist to determine ablation strategies during the termination of various arrhythmias. The EP cath lab is a noisy place, with significant electric interference. However, it is important that the recording system's noise removal technique does not alter appearance and fidelity of these potentials. BioSig's PURE EP™ System is a novel hardware and software platform designed to obtain and display important clinical data during electrophysiology procedures. Pure EP delivers precise and uninterrupted evaluations of electrocardiograms and electrograms to assist the electrophysiologist in real-time during the ablation procedure.

And importantly, Pure EP is designed to be used with existing EP recording devices, essentially creating a new category within the market where cath labs can add on the Pure EP system without the significant cost of replacing or upgrading the significant and expense technology already in place. It is designed to improve the signal and recording so that analysis at previously undetectable levels can be conducted with high accuracy. This is the key to the BioSig investment thesis, as the company is not necessary competing with industry behemoths Boston Scientific, St. Jude Medical, Abbott Labs, Johnson & Johnson, and GE Healthcare, but instead bringing a new product to the market – and EP Information System - that makes existing platforms better.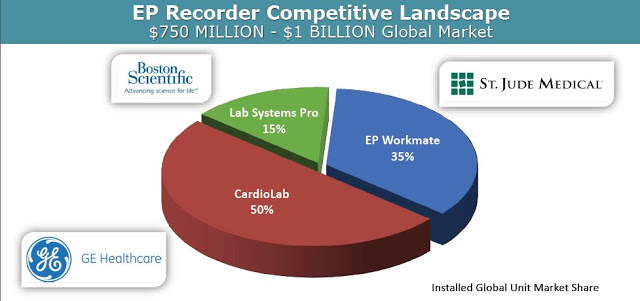 This creates an obvious exit strategy for BioSig once Pure EP is on the market and generating revenues. Deals have been plentiful in this space over the past few years. For example, the deal that Abbott Labs did in October 2014 to acquire privately-held Topera, Inc. for $250 million is pretty representative of the upside potential for BioSig.
BioSig has partnered with some of the country's leading cardiac centers, including the Texas Cardiac Arrhythmia Institute, UCLA Cardiac Arrhythmia Center, U.H. Case Medical Center in Cleveland, William Beaumont Hospital in Michigan, Mount Sinai Medical Center in NY, and the Mayo Clinic in Minnesota on the development and preclinical / clinical testing of the Pure EP system. In fact, on March 23, 2016, BioSig announced the establishment of an advanced research program with the Mayo Clinic to further the development of the platform to treat complex arrhythmias. These relationships are incredibly important, not only for concept validation of Pure EP, but also once the company initiates commercial sales activities.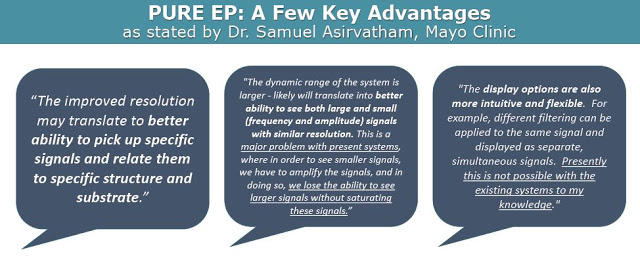 Pure EP is a Class II medical device, and thus can gain U.S. FDA approval through a 510(k) application. Proof-of-concept validation with Pure EP has already been achieved through the company's collaboration with UCLA Labs and preclinical work was conducted at the Mayo Clinic. Management plans to file the 510(k) application late 2016 or early 2017. The U.S. FDA is expected to make a decision 3-6 months later, which should put the company in the position to enter the large and rapidly growing EP market by the middle of 2017. CE Mark in Europe should follow in 2018.
According to Global Industry Analysis, the electrophysiology device market will grow at a 12.1% compound annual growth rate, from $2.5 billion in 2012 to $5.5 billion by 2019, making it one of the fastest growing medical device segments. Accordingly, the number of catheter ablation procedures done in the U.S. is expected to grow at 10.5% CAGR between 2012 and 2017. In 2014, there were a total of 260,000 and 600,000 catheter ablation procedures done in the U.S. and worldwide, respectively. Approximately half of these procedures are for atrial fibrillation or ventricular tachycardia. The average price of such a procedure ranges between $20,000 and $40,000 in the U.S.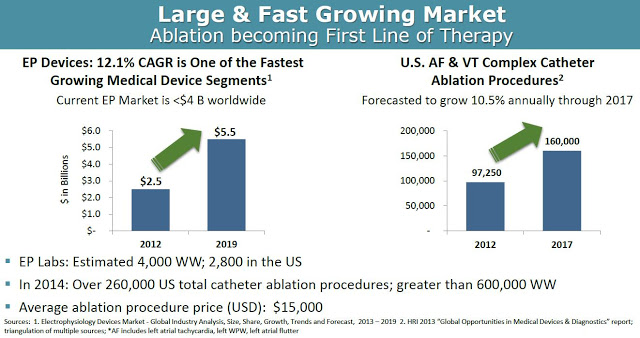 From a market penetration standpoint, BioSig could see significant uptake of the Pure EP device upon commercialization in 2017. As noted above, Pure EP is designed to deliver improved signals and information over the existing already installed equipment, making the product a nice add-on to the incredibly expensive systems (~ $250,000 per install) in place at EP labs across the world. There are a growing number of EP labs in the world, with an estimated 3,500 in the U.S. and another 2,000 outside the U.S. It's a relatively straightforward pitch for BioSig, or a potential commercial partner like Boston Scientific, St. Jude, or General Electric that already have sizable market share and a vested interest in keeping those very important working relationships with cardiac electrophysiologists.
Conclusion
BioSig Technologies has a unique opportunity to provide a product that can deliver a meaningful improvement in diagnostic effect and therapeutic outcome in the large and rapidly growing EP market. I like the investment story here because Pure EP has the potential to be a highly complementary product to an existing installed base that is dominated by industry behemoths. BioSig is developing a credible threat in this space, and that will likely result in a highly lucrative end-game scenario for shareholders.
From a valuation standpoint, BioSig is an estimated 18 months away from revenue generation, with peak sales likely five years later based on Pure EP system installs. I model that Pure EP offers a $615 million cumulative revenue opportunity once launched. Revenue in year five is likely $150 million based on peak system install penetration, with subsequent revenues booked over the next decade following thanks to both hardware and software upgrades and yearly service contracts.
If we apply the industry average EV/Rev multiple noted above to our projected peak sales estimate of $150 million in 2022, and then discount back to present day at 15%, we arrive at a fair market value for BioSig of $182 million. If we assume the industry average EBITDA margin of 28% and apply a similar valuation methodology, only this time using the industry average EV/EBITDA multiple from above, we arrive at a fair market value for BioSig of $186 million. The blended average of these two methods yields a target market value of $185 million. This equates to $10.65 per share on a basic count, or 640% upside to the current stock price.
As such, I believe BioSig Technologies Inc. represents a compelling investment story today, and a name biopharma investors might be interested in adding to their portfolio given the recent outperformance of the Med Tech sector.
----------
Please see additional information on our Disclaimer.