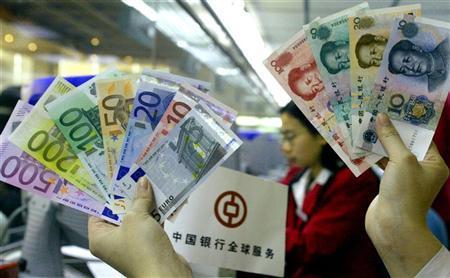 Yuan continues gaining adoption.
China will start direct trading between the yuan and the euro tomorrow as the world's second-largest economy seeks to spur global use of its currency.
The move will lower transaction costs and so make yuan and euros more attractive to conduct bilateral trade and investment, the People's Bank of China said today in a statement on its website. HSBC Holdings Plc said separately it has received regulatory approval to be one of the first market makers when trading begins in China's domestic market.
The euro will become the sixth major currency to be exchangeable directly for yuan in Shanghai, joining the U.S., Australian and New Zealand dollars, the British pound and the Japanese yen. The yuan ranked seventh for global payments in August and more than one-third of the world's financial institutions have used it for transfers to China and Hong Kong, the Society for Worldwide International Financial Telecommunications said last week. 
Source: Bloomberg