Myriad Genetics, Inc. MYGN is slated to report third-quarter 2016 financial numbers on May 3, after market close.
Last quarter, the company posted a positive earnings surprise of 9.76%. Impressively, Myriad's earnings outpaced the Zacks Consensus Estimate in all of the past 4 quarters, with a strong average beat of 6.73%.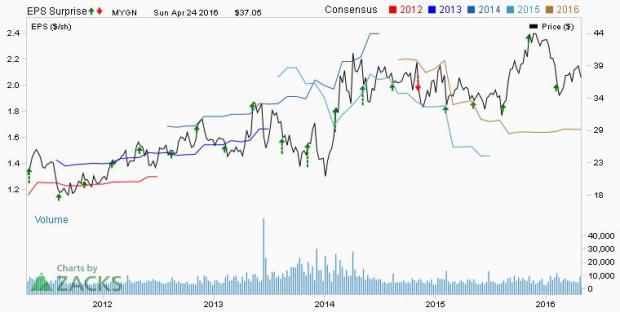 Let's see how things are shaping up prior to this announcement.
Why a Likely Positive Surprise?
Our proven model shows that the company is likely to beat earnings because it has the right combination of two key ingredients.
Zacks ESP: Myriad has an Earnings ESP of +5.26%. That is because the Most Accurate estimate is 40 cents while the Zacks Consensus Estimate is pegged lower at 38 cents. This is a meaningful and leading indicator of a likely positive earnings surprise.
Zacks Rank: Myriad has a Zacks Rank #3 (Hold). Note that stocks with a Zacks Rank #1 (Strong Buy), 2 (Buy) or 3 have a significantly higher chance of beating earnings estimates. Conversely, Sell-rated stocks (Zacks Rank #4 or 5) should never be considered going into an earnings announcement.
The combination of Myriad's Zacks Rank #3 and +5.26% ESP makes us confident of an earnings beat at the company.
What's Driving the Better-than-Expected Earnings?
In the last reported second quarter of fiscal 2016, Myriad witnessed a transition of a majority of its targeted customers to the myRisk hereditary cancer test from its legacy single syndrome tests. Currently, management has shifted its focus toward the second phase of Myriad's hereditary cancer strategy which involves the expansion of the indications for use and driving penetration into markets beyond hereditary breast cancer. We expect this to have an impact on the company's third-quarter results.
With the increasing incidence of cancer around the world, the new NCCN guideline now qualifies approximately 30% of newly diagnosed colon cancer patients and 100% of newly diagnosed endometrial cancer patients for testing, versus approximately 25% of both colon and endometrial cancer patients previously. This guideline has resulted in $18 billion of additional potential revenues from hereditary cancer testing.
To make the most of this opportunity, the company earlier announced that it will implement a sales strategy in the third quarter to promote these new areas. We expect this strategy to benefit the company's third quarter outcome.
Additionally, (if the company receives) the receipt of retrospective reimbursement for Prolaris is expected to generate additional revenues over the same time frame.
Moreover, the company observed significant growth acceleration for Prolaris in the previous quarter and stronger trends for Vectra DA in the month of Jan 2016. Management currently expects this trend to continue which in turn might generate additional revenues in the third quarter and beyond.
On the flip side, management expects to face certain typical seasonal weakness in its third-quarter results based on the reset of patient co-pay and deductible limit and thereby expects its hereditary cancer revenues to decline in the quarter.
For the third quarter, the company expects adjusted earnings per share of 37–39 cents on total revenue of $183–$185 million. The Zacks Consensus Estimate for adjusted EPS of $0.38 lies within the company's guided range, while that for revenues of $185 million coincides with the upper end of the guidance.
Other Stocks to Consider
Here are some other companies you may want to consider as our model shows they have the right combination of elements to post an earnings beat this quarter:
PAREXEL International Corp. PRXL, earnings ESP of +2.25% and a Zacks Rank #1.
Gilead Sciences Inc. GILD, earnings ESP of +1.65% and a Zacks Rank #1.
Zimmer Biomet Holdings, Inc. ZBH, earnings ESP of +1.04% and a Zacks Rank #2.
Want the latest recommendations from Zacks Investment Research? Today, you can download 7 Best Stocks for the Next 30 Days. http://www.zacks.com/registration/pfp/?ALERT=RPT_7BST_LP194&... blog">Click to get this free report >>
Want the latest recommendations from Zacks Investment Research? Today, you can download 7 Best Stocks for the Next 30 Days.
Click to get this free report
MYRIAD GENETICS (MYGN): Free Stock Analysis Report
GILEAD SCIENCES (GILD): Free Stock Analysis Report
PAREXEL INTL CP (PRXL): Free Stock Analysis Report
ZIMMER BIOMET (ZBH): Free Stock Analysis Report
To read this article on Zacks.com click here.
Zacks Investment Research