Mall-based specialty retailer, Zumiez Inc. ZUMZ has been a top performer in the recent months, despite tough retail environment. Most of the credit for this turnaround goes to the company's investments in omni-channel and stringent cost controls. This has in turn aided in delivering robust earnings and sales surprise history, as well as solid comparable store sales (comps) in recent quarters.

The challenging trends in the retail industry are characterized by sluggish mall traffic, volatile consumer spending and macroeconomic uncertainty.

Stock Surge Depicts Momentum

Evidently, the company has significantly outperformed the broader industry in the last three months. The stock has witnessed a substantial growth of 39.9%, while the industry dipped 4.9%. Further, the stock has surged a whopping 30.6% following robust second-quarter fiscal 2017 results on Sep 7.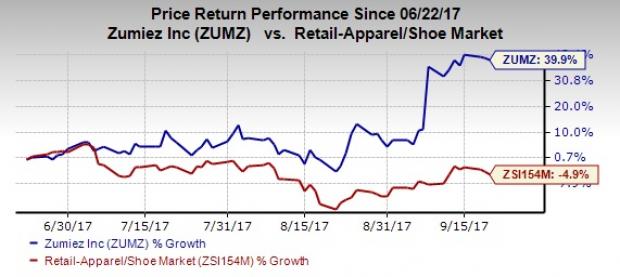 Further, we believe the company is poised to sustain this momentum given the positive commentary on future results, supported by a long-term EPS growth rate of 15%.

Robust Earnings & Sales History

Zumiez continued positive surprise trend in the recently reported second-quarter fiscal 2017 as both top and bottom lines beat estimates. With this, the company delivered positive earnings surprise for the eighth straight quarter, while sales topped estimates in six of the last eight quarters. The company's average positive surprise in trailing four quarters is pegged at 27.1%.The outperformance in the quarter was driven by solid comps growth alongside investments in omni-channel capabilities and stringent cost controls.
Zumiez Inc. Price, Consensus and EPS Surprise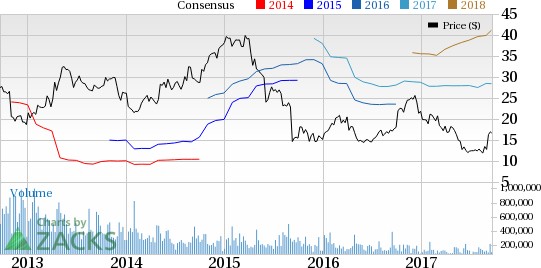 Zumiez Inc. Price, Consensus and EPS Surprise | Zumiez Inc. Quote
Comps Growth Trend Backs Positive Outlook and Boosts Estimates

The company reported positive comps for both the fiscal second quarter and August, marking fourth straight quarter and sixth consecutive month of comps growth. Further, the company notes that the positive comps momentum continued in September, with quarter-to-date comps through Labor Day increasing 8.3% and September month-to-date comps through Labor Day growing 11.4%.

Backed by this trend, Zumiez issued an encouraging outlook for third-quarter fiscal 2017. The company expects net sales in the $236-$241 million range, with comps growth of 4-6%. It also projects earnings of 43-48 cents per share. Moreover, the company provided an optimistic view for fiscal 2017 despite a challenging retail environment. Consequently, the Zacks Consensus Estimate of $1.03 and $1.12 for fiscal 2017 and 2018 rose 10.8% and 8.7%, respectively, in the last 30 days.

Strategic Initiatives to Drive Growth

Additionally, Zumiez is gaining from focus on providing differentiated assortments and by providing a great shopping experience to customers. It remains keen on connecting with core customers more frequently and on a more personalized level. This is strengthening its position in the industry by significant market share gains. Moreover, the company is boosting competitive advantage by investments in logistics, planning and allocation along with omni-channel capabilities, which poises it for growth both in the near and long term.

Getting into further details of these initiatives, the company is on track with the roll out of new customer engagement strategies across stores in the United States. It is also focused on finding new and unique brands across all departments. In this connection, the company plans to launch more than 100 new brands in its stores. This will help bring freshness in its merchandise that customers are looking for.

Further, the company is striving to expand e-commerce and omni-channel platforms to provide consumers with the facility of quick and easy access to its products and brands. In this regard, Zumiez has considerably improved customers' experience, by integrating its physical and digital networks. This allows customers to access inventories through all channels, alongside availing facilities like buy online, pick up in store, reserve online and pay in store. We believe these strategies place the company well for growth.

Streamlining Stores for Balanced Growth

At the same time, Zumiez keeps up with the strategy of optimizing store base through expansion in the underpenetrated markets and by either repositioning or closing underperforming stores through constant evaluation, aimed at maximizing long-term productivity. Though the company has slowed down the rate of domestic store growth, it continues to see opportunities for international expansion. In fiscal 2017, it intends to introduce 18 new stores, including three in Canada, four in Europe and two in Australia.

Conclusion

Though the tough retail environment and impact from foreign currency will remain hurdles for the company, its strategic actions position it well for sustained growth in the long term. The company's potential to grow is further highlighted by VGM Score of A and Zacks Rank #1 (Strong Buy).

Looking for Some More Promising Stocks? Check these

Other top-ranked stocks in the retail space include Abercrombie & Fitch Co. ANF, The Gap Inc. GPS and Canada Goose Holdings Inc. GOOS. While Abercrombie sports a Zacks Rank #1 (Strong Buy), Gap and Canada Goose carries a Zacks Rank #2 (Buy). You can see the complete list of today's Zacks #1 Rank stocks here.

Abercrombie has improved 16.1% year to date. Moreover, the stock has a long-term growth rate of 14%.

Gap has witnessed positive estimate revisions in the last seven days. The stock has a long-term growth rate of 8% and has grown 24.8% year to date.

Canada Goose, with long-term earnings per share growth rate of 34.1%, has surged 21.3% year to date.

Will You Make a Fortune on the Shift to Electric Cars?

Here's another stock idea to consider. Much like petroleum 150 years ago, lithium power may soon shake the world, creating millionaires and reshaping geo-politics. Soon electric vehicles (EVs) may be cheaper than gas guzzlers. Some are already reaching 265 miles on a single charge.

With battery prices plummeting and charging stations set to multiply, one company stands out as the #1 stock to buy according to Zacks research.

It's not the one you think.

See This Ticker Free >>
Want the latest recommendations from Zacks Investment Research? Today, you can download 7 Best Stocks for the Next 30 Days.
Click to get this free report
Zumiez Inc. (ZUMZ): Free Stock Analysis Report
Abercrombie & Fitch Company (ANF): Free Stock Analysis Report
Gap, Inc. (The) (GPS): Free Stock Analysis Report
Canada Goose Holdings Inc. (GOOS): Free Stock Analysis Report
To read this article on Zacks.com click here.
Zacks Investment Research